Next Generation DataMan® 8600 Series Barcode Readers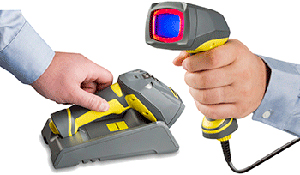 Cognex Corporation, (NASDAQ: CGNX), the world's leader in machine vision, today announced the next generation DataMan® 8600 series of handheld direct part mark (DPM) barcode readers. The DataMan 8600 provides unparalleled barcode reading performance for manufacturers implementing part traceability programs across the automotive, consumer electronics, aerospace, and oil and gas industries.

"The new DataMan 8600 series builds on the success of our industry-leading DataMan 8500 handheld barcode reader, which has been the defining product in industrial direct part mark barcode reading. Rapid adoption of 2-D DPM identification for traceability has manufacturers demanding a rugged, self-contained reader that performs consistently on all types of codes and parts," said Carl Gerst, Vice President and Business Unit Manager, ID Products. "The DataMan 8600 series sets a new performance standard for handheld DPM readers, reliably reading everything from the most challenging DPM codes to the easiest printed barcodes."

DataMan 8600 series readers combine industry-tested 2DMax®+ algorithms and patented Cognex UltraLight® technology to read the most challenging DPM codes on the widest range of materials and surfaces.

Additionally, the DataMan 8600 series handheld readers provide Ethernet communication with industrial protocols enabling seamless integration with factory automation equipment. These readers offer field interchangeable communication modules that allow readers to be configured to meet customer-specific communication requirements. Available with both corded and wireless communication modules, the DataMan 8600 series supports industry-standard communications including USB, RS-232 and Bluetooth wireless communication to an intelligent base station.

Built for harsh work environments, the DataMan 8600 series has a rugged industrial design as well as a range of industrial cables and accessories to support the product. Typical applications for the DataMan 8600 series include automotive kitting, engine assembly, incoming inspection, transmission assembly, consumer electronics manufacturing, aerospace, and oil and gas.

For more information about the DataMan 8600 series industrial handheld barcode readers, visit http://www.cognex.com/handheld-barcode-scanners.aspx or call 1-(855)4-COGNEX.

About Cognex Corporation
Cognex Corporation designs, develops, manufactures and markets a range of products that incorporate sophisticated machine vision technology that gives them the ability to "see." Cognex products include barcode readers, machine vision sensors and machine vision systems that are used in factories, warehouses and distribution centers around the world to guide, gauge, inspect, identify and assure the quality of items during the manufacturing and distribution process. Cognex is the world's leader in the machine vision industry, having shipped more than 1,000,000 vision-based products, representing over $3.5 billion in cumulative revenue, since the company's founding in 1981. Headquartered in Natick, Massachusetts, USA, Cognex has regional offices and distributors located throughout North America, Japan, Europe, Asia and Latin America.