Next "ace" GigE Cameras
rong>Next Basler "ace" GigE Cameras Start Series Production

New models with VGA and 2 MP resolution offer superior image quality at very attractive prices for traffic, medical, and factory automation applications

Ahrensburg – Basler is starting full production of the newest ace GigE area scan cameras, the acA640-90 and the acA1600-20 mono and color models.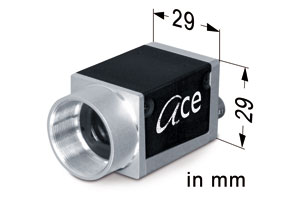 As with all other Basler ace cameras, they combine superior image quality, leading edge GigE interface technology, and a strictly cost-driven design in an ideal way. The cameras are very easy to integrate from both a hardware and a software perspective. They offer a very small 29 x 29 mm footprint and Power over Ethernet functionality, as well as high performance features and compliance with all relevant standards such as GigE Vision or GenICam.

These new cameras are a perfect fit for a variety of applications ranging from traffic systems and factory automation to medical applications.

Easy Analog Camera Replacement with the ace acA640-90

The ace acA640-90 mono and color models feature the Sony ICX424 sensor that delivers 90 frames per second at VGA resolution. This sensor is a 1/3" Sony CCD sensor with exceptional image quality. It is widely used in analog cameras and in some FireWire cameras, and it is universally employed in factory floor applications. The new acA640-90 cameras now allow all users of analog and FireWire cameras to switch to GigE as easily as possible.

Superior Image Quality with the ace acA1600-20

The acA1600-20 cameras feature the popular Sony ICX 274 CCD sensor. The cameras provide 20 frames per second at 2 megapixel resolution. Both the mono and color models exhibit excellent image quality as shown by measurements made according to the EMVA 1288 standard. Basler ace acA1600-20 cameras are currently the smallest GigE cameras with Power over Ethernet functionality using the ICX 274 sensor.

Basler Vision Technologies is a leading global manufacturer of digital cameras for industrial applications, medical devices, traffic systems, and the video surveillance market. Product designs are driven by industry requirements and offer easy integration, compact size, and a very strong price/performance ratio. These characteristics are the decisive factors allowing Basler to hold a leading position in the GigE Vision arena today. Founded in 1988, Basler has more than 20 years of experience in vision technologies and offers one of the broadest product portfolios in the industry. The company employs about 300 people at its headquarters in Ahrensburg, Germany, as well as in international subsidiaries and offices in the U.S., Singapore, Taiwan, Korea, and Japan.