Nexen Introduces an Industry First: NexSafe Functional Safety Certified Brakes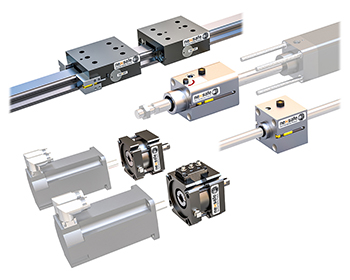 VADNAIS HEIGHTS, MN – Nexen Group, Inc., announces the launch of NexSafe™ Certified Safety Brakes – the first products in North America to earn the Intertek Functional Safety (FS) Mark. NexSafe products are certified to comply with ISO 13849-1, Categories B through 4 and Performance Levels PLa through PLe. Integraged safety features typically increase component pricing signficantly, but Nexen has provided this increased safety at no extra cost to customers.
NexSafe products are spring engaged, air released, and default to lock, making them ideal for precision holding and emergency applications. They are Industry 4.0 compatible with Operating Mode Sensors for engagement or disengagement, accurate linear positioning, predictive maintenance, and operational feedback.
NexSafe Functional Safety Certified Brakes for Linear and Profile Guides and Rails
Multiple actuators and engagement springs
Compatible with all major manufacturers
B10D of 4 million cycles
NexSafe Functional Safety Certified Servomotor Brake
Mounts directly to servomotor flange
Integral clamp collar with backup keyway
B10D of 2 million cycles
NexSafe Functional Safety Certified Brakes for Pneumatic Cylinders or Round Shafts and Rails
Multiple engagement springs
Compatible with almost all guide rod systems and pneumatic cylinders (NFPA or ISO)
B10D of 2 million cycles
About Nexen Group, Inc.
Our heritage is built on producing technically superior products while providing the highest level of customer support. As a leading manufacturer of precision motion control components, power transmission and web tension control products, Nexen works to remain at the forefront of cutting edge engineering and production excellence. Our production capabilities include computerized control and testing systems, dry cutting applications, special coating processes, over 80 multi-axis precision CNC machine tools and automated assembly. By working with Nexen, our customers experience innovations that adhere to industry specifications, optimize their metrics and provide solutions focused on increased uptime, longer machine life and reduced maintenance. For more information, please call 800-843-7445.