Nexen - Roller Pinion System (RPS) for Flow's new line of waterjet machines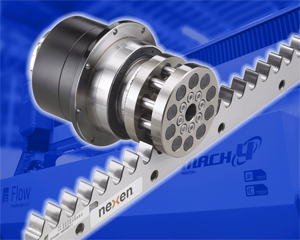 Nexen Group, Inc. announces with Flow International Corp., Kent, WA, that the companies have entered into an exclusive agreement to use Nexen's Roller Pinion System (RPS) for Flow's new line of waterjet machines.
Nexen's RPS offers linear positioning with zero backlash for high-precision motion control applications. The RPS features a roller pinion/toothed rack combination. The pinion is comprised of bearing supported rollers that engage a unique tooth profile. Each tooth profile is measured to ensure high positional accuracy and eliminate cumulative error. The racks are available in the standard 1-meter and ½-meter cut lengths or are able to be custom cut to certain lengths, leaving no limit to travel distances.
"As leaders and innovators in the waterjet industry, Flow continually strives to deliver only the highest performing products to our customers," said Tim Fabian, Manager of Global Product Marketing for Flow International. "After evaluating virtually every motion system solution for our next generation flagship product, only the Nexen RPS system met our stringent criteria for highly-accurate, backlash-free motion." Fabian added, "Both the efficiency and modularity attributes improved our product beyond expectations."
Nexen Group, Inc is a leading manufacturer of precision motion control solutions including linear drive systems, precision rotary indexers, linear locking components and power transmission products including spring set brakes, tooth clutches and torque limiters for a wide variety of automation applications in the Aerospace, Robotics, Machine Tool, Automotive, Packaging, Material Handling and Medical Industries.
Flow International Corp. is the world leader in the development and manufacture of ultrahigh-pressure (UHP) waterjet technology and a leading provider of robotics equipment. Flow provides technologically advanced, environmentally sound solutions to the manufacturing and industrial cleaning markets. For more information, call 800-446-FLOW (253-850-3500 outside US).