Nexen - Harmonic Gearhead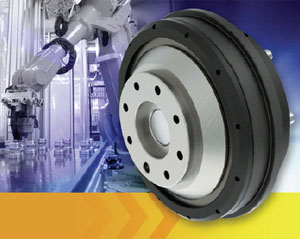 Nexen Group, Inc. has announced what it believes to be the industry's shortest and most compact automation gearhead. The new Nexen Harmonic Gearhead directly replaces much larger, high-ratio planetary gearheads utilizing the latest harmonic, strain wave gearing technology. In addition to its extremely short, compact size, the Harmonic Gearhead has numerous significant advantages over planetary gearing including high torque, true zero backlash and extremely precise positional accuracy.
Nexen's patent-pending, gearing-forward design overlaps components and allows the gearing to be integrated into the same plane as the bearing, resulting in an extremely short and rigid gearhead. This narrow, rigid design is combined with a large, rugged, crossed-roller output bearing, designed to handle all combinations of radial, axial and overturning moment loads in a single, compact envelope. The Nexen Harmonic Gearhead is the most durable and accurate available, achieving superior positional accuracy and high torque with true zero backlash directly to the motor.
With space at a premium in machine tools and automation equipment, the new Harmonic Gearhead can fit virtually any machine with key applications in products and machinery requiring a minimal footprint, such as machine tools, robots and robotic arms, medical equipment, rack and pinion systems and numerous general industrial positioning and motion control applications. In many applications, the Nexen Harmonic Gearhead can operate in less than half the space of conventional planetary gearheads. It is also extremely easy to integrate with a standard ISO 9409 output flange that fits most standard components and end effectors.
Also significant, the new Harmonic Gearhead is available with the Nexen Roller Pinion System (RPS). The gearhead is integrated directly into the pinion without adding any length to the system, resulting in the only drive solution that maintains zero backlash from the driving motor shaft thru to the driven load for both linear and rotary motion. This combination also adds significant simplicity saving the extensive time and expense of integrating a gearbox into the motion system; the user can simply bolt and go. Specifically engineered to meet diverse and demanding motion control challenges, Nexen's RPS delivers high-accuracy positioning with zero backlash and virtually eliminates cumulative error. The RPS surpasses traditional rack and pinion systems with a unique roller pinion/rack combination that can be easily adapted to any application. The pinion consists of bearing-supported rollers that engage a unique tooth profile. Two or more rollers connect with the rack teeth in opposition at all times, eliminating backlash. The RPS rollers approach the tooth face in a tangent path and then smoothly roll down the tooth face, greatly reducing noise levels associated with other linear motion systems, such as tooth slap or ball return noise. The low-friction design delivers more than 99% efficiency in converting rotary to linear motion, greatly reducing wear and providing longer service life at high speeds up to 11 m/sec (36.1 ft/sec).
Nexen Group, Inc is a leading manufacturer of precision motion control solutions including linear drive systems, precision rotary indexers, linear locking components and power transmission products including spring set brakes, tooth clutches and torque limiters for a wide variety of automation applications in the Aerospace, Robotics, Machine Tool, Automotive, Packaging, Material Handling and Medical Industries.