Nexen Group Introduces Precision Motion Control Application & Selection Guide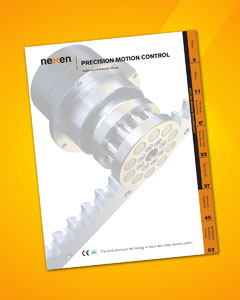 Vadnais Heighs, MN - Nexen Group, Inc. is offering a new Precision Motion Control Application & Selection Guide that provides complete performance data, sizes, specifications and technical reference on the company's entire line of precision linear and rotary motion control solutions. The guide features Nexen's revolutionary zero-backlash Roller Pinion System (RPS), the recently released Harmonic Gearhead (HG), Precision Ring Drive (PRD), and breakthrough new solutions that offer increased efficiency, accuracy, and speed over competitive options.
The Nexen line of roller pinion motion control products offer new standards for positioning precision, robust performance and ease of use for engineers and machine. The RPS offers efficiency greater than 99% with a long life of up to 60 million pinion revolutions, yielding up to 36 million meters of travel. Offering the reliability of constant positional accuracy regardless of distance traveled, Nexen roller pinion technology products include racks, gears, pinions ,accessories, and more.
One of the highlighted products in the new guide is the Nexen Harmonic Gearhead, a precision drive solution designed to offer reliable precision even when intricate movements are required. The HG can be integrated with Nexen's RPS to create a true backlash-free solution from the motor to the driven load, and is 70% smaller than all other standard gearheads, allowing machine designers to save considerable space and weight.
Also featured, the Precision Ring Drive is based on Nexen's Roller Pinion technology, and comes with a precision-grade bearing and gearhead for increased performance and efficiency. Providing accelerations up to twice as high as other indexing technologies, the PRD's indexing accuracy allows for up to ± 11 ArcSec and repeatability ± 1.2 ArcSec, and the ability to start and stop at any incremental position at speeds up to 94 dial plate RPM.
Free printed copies of the 60-page Nexen Precision Motion Control Application & Selection Guide are available by request at www.nexengroup.com. A PDF version of the guide is also available for immediate download.
Nexen Group, Inc., is a leading manufacturer of precision motion control solutions including linear drive systems, precision rotary indexers, linear locking components and power transmission products including spring set brakes, tooth clutches and torque limiters for a wide variety of automation applications in the Aerospace, Robotics, Machine Tool, Automotive, Packaging, Material Handling and Medical Industries.