New V180-2 Cylindrical Sensor provides an Economical Solution for Universal Applications
Sensors are easy to align and install using an extremely bright red sender LED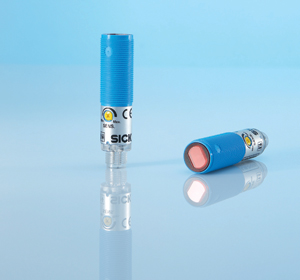 Minneapolis, Minn. – SICK, one of the world's leading manufacturers of sensors, safety systems, machine vision, and automatic identification products for factory and logistics automation, today announced the launch of its new V180-2 cylindrical photoelectric sensor. The V180-2 provides an economical solution for universal applications, such as product detection and machine positioning in packaging, general manufacturing automation, material handling and warehousing systems.
These new sensors are easily aligned and installed using the extremely bright red sender LED. They also feature indication LEDs that are highly visible due to translucent housing material, allowing for 360° visibility. Plus, the indication LEDs provide continuous signal strength information, offering quick and simple troubleshooting - providing cost savings both during installation and maintenance.
Additional features and benefits:
The sensor can handle fast processes where objects must be detected at high speeds due to its short 0.5 ms response time while increasing throughput.
V180-2 offers complementary light and dark operate outputs (selectable light or dark operate). The LEDs also indicate if the sensor is wired for light or dark operate.
The flat, smooth lens reduces the collection of dust and dirt for safe operation with minimized maintenance and cost.
The V180-2 proximity versions are designed to provide the longest sensing range in the standard sensor industry (available as 100 mm, 400 mm or 800 mm).
The reflex version has a polarization filter, offering first-class results at 4 m in IP 67 environmental conditions.
The through-beam version has a range of 20 m, making it ideal for longer distances.
The V180-2 is offered in PNP and NPN versions with industry-standard 2 m cable and M12 connectivity.
About SICK
SICK is one of the world's leading manufacturers of sensors, safety systems and automatic identification products for industrial applications. With nearly 450 patents, SICK continues to lead the industry in new product innovations. The diversity of its product line allows SICK to offer solutions at every phase of production in the logisitics, automotive, packaging, electronics, food and beverage, and material handling markets. SICK was founded in 1946 and has operations or representation in 65 countries worldwide.

Contact:
Tracie Manor, Public Relations
952-829-4728