New Ultrasonic Sensors
TWI

NSBURG, OH – Pepperl+Fuchs introduces Series IO Ultrasonic Sensors. These IO-Link compatible sensors establish a new level of versatility and convenience with simple pushbutton programming. Pushbutton programming provides fast and easy on-site sensor parameterization without requiring any software. IO-Link compatibility unlocks a series of control functions that customize the sensor for installation in the most challenging environments. These parameters can be viewed and modified on-the-fly via an IO Link controller, or via a PC.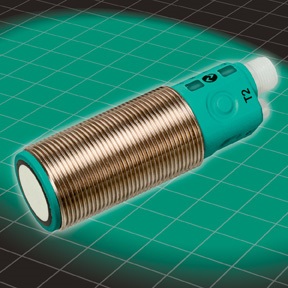 "Using the pushbuttons, a user can configure Series IO ultrasonic sensors to use numerous modes, including pump-up/pump-down, rising/declining analog slope and beam width adjustments, among others. The pushbuttons also configure trip points, output function, output behavior, and even the shape of the sound cone," says Marcel Ulrich, Product Manager. "High-visibility green and yellow LEDs verify power and target status, and also assist with pushbutton programming."
Series IO ultrasonic sensors have UL, CSA and CCC approval, and feature a completely sealed, IP67-rated housing, making them suitable for use in outdoor application environments. Additional features include two programmable switch outputs, latching mode and window functions, synchronization options and temperature compensation. They are available in switch point and analog versions, both available with 500 mm, or 2, 4 or 6 m sensing ranges. All units are 30 mm diameter by overall length of 93 mm.
"For expanded parameter access and programming, Series IO sensors are also configurable through IO-Link and PactWare software. In fact, for users with an IO-Link controller, one of the most significant benefits of IO-Link is the ability to modify and monitor sensor parameters on the fly," says Ulrich.
IO-Link opens up an entirely new dimension of configuration and communication of and with sensors, enabling them to be uniquely customized to the application at hand. IO-Link is based on an intelligent point-to-point connection system on the field level. IO-Link systems offer intelligent sensing without being tied to a proprietary system, and operate independent of the field bus.
An IO-Link master can have one or several ports, with one IO-Link device connected to each port. Thus IO-Link is point-to-point device communication, and allows I/O-signals to be connected to standard systems via the IO-Link master. Additionally, for the use of intelligent sensors, IO-Link offers advantages such as:
Simplified installation

Replace parallel wiring
Replace analog signal types
Standardize interfaces and cables
Modular machine support
Automated parameter setting


Automated parameter setting
PC assisted parameter setting
Expanded diagnostics

Remote diagnostics down to the field device level
Cable break detection
Device-specific diagnostics
Pepperl+Fuchs is a world leader in the design, manufacture and application of high quality factory and process automation products and services. Pepperl+Fuchs pioneered the development of proximity sensors 50 years ago, and has set the standard for innovation and quality ever since.