New Ultrasonic Sensor from SICK Enables Excellent Detection
Minneapolis, Minn., – August 28, 2008. SICK (www.sickusa.com), one of the world's leading manufacturers of sensors, safety systems, machine vision, and automatic identification products for factory and logistics automation, today announced the UC4 Ultrasonic Sensor. The UC4 Sensor offers excellent detection of optically difficult targets, such as clear, shiny and dark materials… and provides perfect performance in optically challenging environments. The UC4 is the smallest ultrasonic sensor from SICK, so it fits in tight spaces.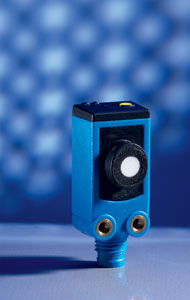 Applications include hopper and tank fill level detection (powders, ink, and clear liquids); bottling line presence detection of clear bottles and multi-colored caps; semiconductor industry to detect wafers, solar panels, glass, and PCBs; and woodworking and metal forming/fabricating machinery for product detection and to detect the positioning of internal parts on the machine (levers, arms, etc.).
The UC4 Sensor enhances the company's existing line of ultrasonic products. The sensor's small size and big performance allow customers to install it in places that are too tight for most other ultrasonic sensors. The UC4 Sensor will solve customers' tough applications – where photoelectric sensors would not work, such as detecting transparent or mesh targets.
The UC4 combines simple push-button setup with incredible detection performance – all in a compact housing. The UC4 has a single PNP or NPN output, capable of detecting virtually any target within its 250 mm range. The UC4 can be set up in three detection and output modes - Background Suppression (BGS), Window, and Reflection mode.
About SICK
SICK is one of the world's leading manufacturers of sensors, safety systems and automatic identification products for industrial applications. With nearly 450 patents, SICK continues to lead the industry in new product innovations. The diversity of its product line allows SICK to offer solutions at every phase of production in the semiconductor, automotive, packaging, electronics, food and beverage, and material handling markets. SICK was founded in 1946 and has operations or representation in 65 countries worldwide.
Contact:
Tracie Manor, Public Relations
952-829-4728
tracie.manor@sick.com