New Ultra-Compact Drive Module in Rexroth NYCe4000 Family to Drive up to 5 Axes
rong>New drive module for NYCe4000 can drive up to 5 axes of brushed or brushless motors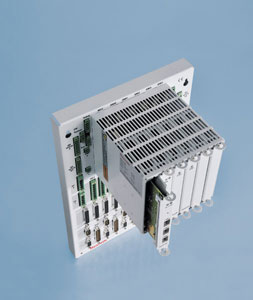 (Hoffman Estates, IL) The NYCe4000 motion control system is widely used to control demanding applications in the Semiconductor, Solar and Metrology industry. With its up to 10 integrated amplifiers it is a very attractive solution for controlling a large number of axes in an environment where space is limited. With the introduction of an ultra-compact 5-axis drive module, the space utilization can be optimized even further.

Ultra compact

The new 5-axis drive card has an ultra-compact size of 120x140x20 mm. Multiple cards can be combined in a single housing with a motion controller. This makes it possible to control up to 10 axes in a very compact space.

Brushed and brushless motors

The new 5-axis drive module uses PWM amplifiers that can be configured in software to handle either brushed or brushless motors. The ability to control these different motor types from the same drive allows the user to simplify system architecture and reduce cost. The power range of the amplifiers is up to 70W. This complements the existing integrated drive modules that can handle up to 1000W.

Variety of encoder protocols

With the wide variety of encoder protocols available in the market today, it is vital to have an open architecture. The Rexroth NYCe4000 system therefore allows the user to connect a variety of encoder types to the same physical interface. The encoder protocol can simply be selected in software.

Integrated I/O

To be able to interface with sensors and external devices, all NYCe4000 drive modules come with integrated I/O. The tight integration of the I/O with the drive allows e.g. high-speed position capturing, laser synchronization, and brake control.

Bosch Rexroth AG is one of the world's leading specialists in the field of drive and control technologies. Under the brand name of Rexroth the company supplies more than 500,000 customers with tailored solutions for driving, controlling and moving. Bosch Rexroth is a partner for industrial applications and factory automation, mobile applications and renewable energy. As The Drive & Control Company, Bosch Rexroth develops, produces and sells components and systems in more than 80 countries. In 2009 Bosch Rexroth, part of the Bosch Group, achieved sales of around $5.7 billion (4.1 billion Euro) with 34,200 employees.

For more information please visit: www.boschrexroth-us.com.