New SRU-plus Rotary Actuator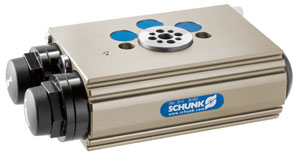 With a new dampening system the SRU-plus rotary actuator from SCHUNK can rotate heavy loads just like its proven predecessor the SRU. The new unit with its unbeatable cost / performance ratio is available in six different sizes. The user can choose between two dampening versions. The soft dampening version ensures shorter cycle times even with the same payloads; the hard dampening version enables the handling of a heavier payload with the same body size.
The completely revised rotary module series from SCHUNK has many options, including electric and fluid feed through, continuous adjustment of the end positions, as well as pneumatic or locked middle position versions. Furthermore, it is perfectly interchangable with its predecessor, which ensures a hassle free upgrade to the SRU-plus.
Don't miss out on what SCHUNK has to offer at IMTS 2010! Visit us at Booth W-2000 for all your Automation needs.