New! Slim Motoman SIA20 Robot Provides Lean, Powerful 7-Axis Arm for New Era of Automation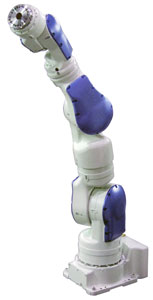 Dayton, Ohio — Lean and powerful, Motoman's new SIA20 (slim, individual arm) robot features a revolutionary 7-axis design with best-in-class wrist performance characteristics that enables amazing freedom of movement, coupled with the ability to maneuver in very tight areas. The compact SIA20 has a 16% smaller footprint than the previous IA20 model, as well as accelerations that are five times faster for improved cycle times. The agile, versatile SIA20 opens up a wide range of industrial applications to robots and is ideal for assembly, injection molding, inspection, machine tending and a host of other operations.
The SIA20 robot features a 20 kg (44.1 lb) payload, 1,498 mm (59") vertical reach, 910 mm (35.8") horizontal reach and a repeatability of ±0.1 mm (0.004"). It can straighten vertically to take up only one square foot of floorspace and is just 330 mm (13") wide at the widest point.
Short axis lengths and extreme motion flexibility allow the slim manipulator to be positioned out of the normal working area (i.e. floor-, ceiling-, wall-, incline- or machine-mounted) without limiting the motion range of any axis. Mounting the SIA20 robot between two machine tools provides open access to the machines for fixture maintenance, adjustment or testing. Additionally, the operator has clear access to the machine operator station for entering offsets, maintenance or other operations.
The SIA20 robot is controlled by the Motoman NX100 robot controller that features a robust PC architecture, Windows® CE programming pendant, and easy-to-use INFORM III programming language.
For more information on the SIA20 robot or other Motoman products and services, visit the corporate website at www.motoman.com, call 937.847.6200 or write to Motoman Inc., 805 Liberty Lane, West Carrollton, Ohio, USA 45449.
CONTACT:
Sally Fairchild
937.847.3202