New! Slim Motoman SIA-Series Robots with Next-Generation DX100 Controller Provide Lean, Powerful 7-Axis Arms for New Era of Automation
Dayton, Ohio — Lean and powerful, Motoman's new SIA10D and SIA20D (slim, individual arm) robots feature a revolutionary actuator-based 7-axis design with best-in-class wrist performance characteristics that enable amazing freedom of movement, coupled with the ability to maneuver in very tight areas. These agile, versatile robots open up a wide range of industrial applications to robots and are ideal for assembly, injection molding, machine tending, and a host of other applications.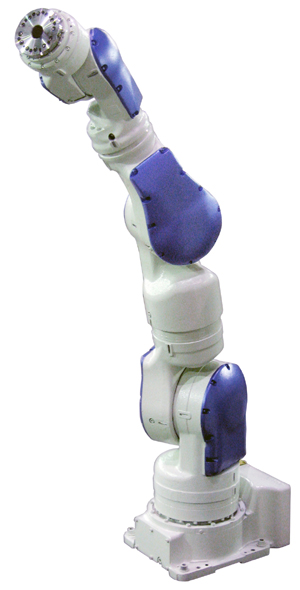 The SIA10D robot features a 10-kg (22.1-lb), 1,203 mm (47.4") vertical reach, 720 mm (28.3") horizontal reach. The heavier-payload SIA20D model features a 20 kg (44.1 lb) payload, 1,498 mm (59") vertical reach, 910 mm (35.8") horizontal reach. Both models have a repeatability of ±0.1 mm (0.004") and can straighten vertically to take up approximately one square foot of floorspace. The SIA10D is only 264 mm (10.4") mm wide at its widest point, and the SIA20D is only 330 mm (13") wide.
Short axis lengths and extreme motion flexibility allow these slim manipulators to be positioned out of the normal working area (i.e. floor-, ceiling-, wall-, incline- or machine-mounted) without limiting the motion range of any axis. Mounting the SIA-series robots between two machine tools provides open access to the machines for fixture maintenance, adjustment or testing. Additionally, the operator has clear access to the machine operator station for entering offsets, maintenance or other operations.

SIA-series robots are controlled by the next-generation Motoman DX100 robot and system-level controller that uses patented multiple robot control technology to easily handle multiple tasks including control of up to eight robots (72 axes), as well as I/O devices, and communication protocols. Featuring a robust PC hardware architecture, the DX100 controller uses a Windows® CE programming pendant with color touch screen.

Source:
Motoman Inc.
Sally Fairchild
(937) 847-3202
Motoman is a wholly owned subsidiary of Yasakawa Electric Corporation, a worldwide leader in mechatronics and robots. We provide world-class robotic automation solutions for a wide variety of applications including arc and spot welding, assembly, coating, dispensing, material cutting, material removal, picking, packaging, palletizing, machine tending, press tending and other general material handling applications.