NEW Servo Drives for DC-Powered Applications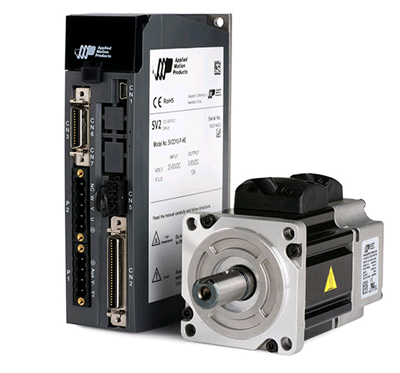 Why choose SV200 digital servo drives?
SV200 digital servo drives are compact, powerful, and functional servo drives, designed for use in demanding motion control applications in a wide range of industries.
Advanced performance with multiple control options
24 to 60 VDC input
10 A cont., 20 A peak output current
Compact size for multi-axis applications
Ideal for OEMs
Designed for use with J Series motors
Wide range of control options
8 regular digital inputs, 5-24 VDC
4 high-speed digital inputs, 5-24 VDC
6 digital outputs, 30 VDC max
2 analog inputs, -10 to +10 V
Safe Torque Off (STO) input
Wide Selection from a Single Source
Servo drives, motors, cables, software, and accessories, all available from Applied Motion.
Support for pulse & direction, analog torque/velocity/position, streaming commands, stored program, fieldbus, and industrial Ethernet control.
Q Programming provides robust, on-board motion control for decentralized applications.
Support for CANopen, Modbus RTU/TCP, EtherNet/IP and EtherCAT networks.
Planetary gearheads available for increased torque output and inertia matching.
SV2D10 Servo DrivePerformance and Functionality
SV200 servo drives were designed with demanding applications in mind.
Programmable notch filter and an anti-vibration algorithm ensure smooth motion and accurate positioning.
Improved EMC over legacy drive systems.
Broad functionality in a compact servo drive that is ideal for OEM and multi-axis applications
Auto-tuning for quick and reliable commissioning of the servo axis.
Separate power for main and control circuits enable "keep-alive" functionality to maintain DC power to the controller while power to the motor is removed.
Dedicated Safe Torque Off (STO) circuit for safety-rated applications
Internal fault protection from over-temperature, over-voltage, and over-current (short circuit) conditions.
Dual-port communications for daisy chaining drives together (line or ring networks).