New Sealed DRG 2-Finger Radial Gripper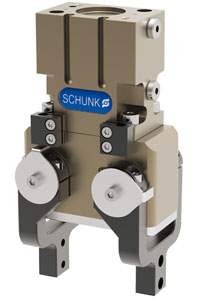 The new DRG 2-Finger Radial Gripper from SCHUNK is perfect for difficult handling tasks. The gripper shows its strength the most when used in dirty working environments. It is excellently suited for loading and unloading of wet machining centers, grinding machines, lathes or milling machines. Other applications are in painting plants, powder processing or underwater.
The robust gripper by SCHUNK, the leader in automation components, fulfills the IP67 protection requirements, which means that no materials from the working environment can get inside the unit. The sealed DRG gripper is an all-purpose unit and depending on the individual application, it can be ordered with gripping force safety device or as a high-temperature version. The end position can be optionally monitored via inductive proximity switches or magnetic switches.
Media Contact
Veronika Gaertner
Marketing Coordinator

Technical Contact
Jesse Hayes
Automation Product Manager