New Schmalz Suction Cups for the Automotive Industry
Schmalz, global expert for Vacuum Technology, extends the range of suction cups for applications in the automotive and sheet-metal industry even further with two new series of suction cups . The first is the suction cup type SAG, a round bellows suction cup for universal handling tasks, and the second is the type SAOG-S, an oval bellows suction cup for handling long, non-rigid workpieces made of metal. Both of these new suction cups are made from the extremely flexible material NBR (Shore hardness 60 Shore A). Thanks to their long stroke and their flexible sealing lip, the suction cups adapt themselves ideally to uneven or curved workpiece surfaces.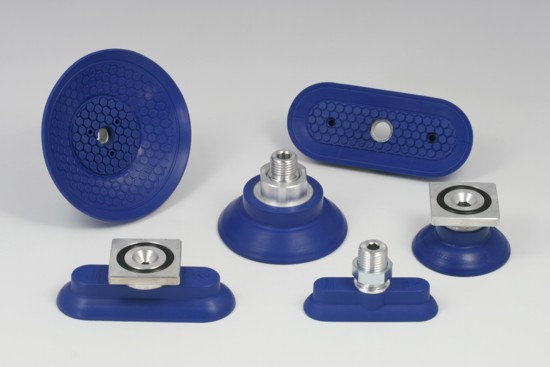 The structured inner surface of the suction cups permits them to handle very high transverse forces and prevents deformation of even thin sheet-metal workpieces. These design features and material used for the suction cups permit highly dynamic and precise movement of the workpieces with high acceleration rates. The suction cups of the two new series are available in various diameters and sizes and with various connectors.
The suction cups are delivered with the connection nipple already fitted, which means that they only need to be screwed into position and connected to the vacuum hose. The new suction cups SAG and SAOG-S for the automotive industry are ideal for the handling of all types of sheet-metal components and assemblies. And last but not least, they permit safe and reliable handling of oily or coated sheet-metal parts and can thus be used both on robot systems and in press lines linked by means of feeders.

Schmalz is the leading supplier of Vacuum Automation Components as well as Robotic and Gantry style Vacuum Gripping Systems. Schmalz supplies modularly constructed area and layer vacuum grippers for flexible handling of varying material properties, configurations and shapes - such as non-rigid cardboard boxes, plastic film and porous materials. Schmalz grippers can handle varying dimensions and undefined positions. The product range of Vacuum Components includes suction cups in (11) standard materials and cup lines for special industry needs, e.g. Automotive cups or cups for the Packaging industry. The product range also includes vacuum generators, mounting elements and system monitoring devices. Schmalz, founded in 1910 in Germany, is family owned and operated in third generation. Schmalz is one of the few positive-energy companies worldwide and has been rewarded for its sustainability several times. Schmalz is ISO 9001 and ISO 14001 certified for more than 10 years.

Schmalz Inc., founded in 1999, is the US-subsidiary of Schmalz. Located in Raleigh, NC, Schmalz Inc. has its own outside sales force and Authorized Schmalz Distributors in all states. Schmalz Inc. is committed to provide an outstanding and timely service nationwide.
Schmalz Inc. | 5200 Atlantic Avenue | Raleigh, NC 27616 | (919) 713-0880 | schmalz.com