New SCARA Line Released by Nachi Robotic Systems Inc.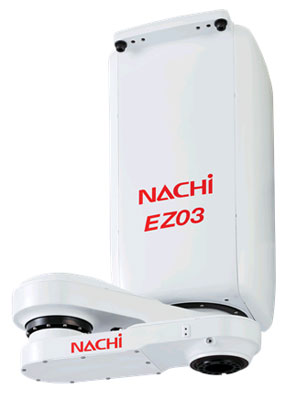 The New EZ02/EZ03 & ES06/ES12
Nachi Robotic Systems, Inc. released two new series of high-speed, high-performance SCARA robots perfect for when small footprint, high-precision, and light payload application is needed.
EZ SCARA Robots
The EZ SCARA Robot Series consists of 6-Axis (EZ02) and 4-Axis (EZ03) models. EZ robots are available in both floor and invert mounted configurations with a variety of reach and stroke options available. The EZ robot models are available ranging from 450mm to 550mm horizontal reach.
EZ SCARA robots save space and are useful for flexible equipment layouts due to the optional vertical ceiling mount configuration that can use the entire operating envelope.
ES SCARA Robots
The ES SCARA Robot Series consists of two models ranging from 6Kg (ES06) to 12Kg (ES12) payload capacity with 4-Axes. These models are available in floor mounted configurations.
The ES robot models offer a combination of high-speed, exceptionally high repeatability and mechanical rigidity. The ES robot models are available ranging from 350mm to 850mm horizontal reach and 200mm to 450mm vertical stroke.
In both the EZ and ES series, cable routing, in particular, is simplified by hollow constructions to the end of the wrists, capable of housing cables internally. Reliability of the hand wires have been significantly improved by avoiding interference with peripheral devices.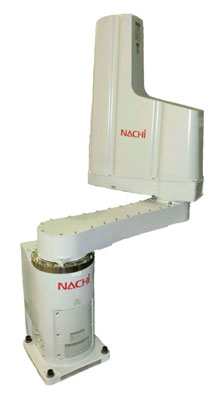 Nachi's new SCARA robots are excellent for material handling, assembly, electronics, and palletizing applications. These applications include: resin molding, deburring and polishing, sealing, general assembling, tightening nuts, shipping and receiving (palletizing), picking, aligning, packaging, measuring, inspection, testing, and general handling.
About Nachi Robotic Systems Inc.
Nachi Robotic Systems, Inc. is an industry leading robot supplier based in Novi, Michigan. Nachi is a customer driven and quality focused company providing industrial robots and robotic solutions since 1989. Our products include the best in class table top robot (MZ07), the fastest spot welding robot (SRA-series), a unique series of robots that include precise and high-performance SCARA robots (EZ03/ES), 7-axis robots (MR-series), robotic seam welding, case packing, material handling, robotic vision, machine tending, picking robots, dispensing robots, deburring robots, arc welding and assembly robots.