New ROSS Stainless Steel L-O-X® Air Entry Unit Offers Corrosion Resistance and Space Savings
rong>New ROSS Stainless Steel L-O-X® Air Entry Unit Offers Corrosion Resistance and Space Savings

(TROY, MI) – In harsh manufacturing environments, corrosion damage and contaminant ingression wreak havoc on productivity. To help customers protect their end-product quality and avoid costly downtime, ROSS CONTROLS® is introducing its Stainless Steel L-O-X® Air Entry Unit which combines the industry-leading L-O-X® energy isolation valve with an integrated filter/regulator in a compact, high flow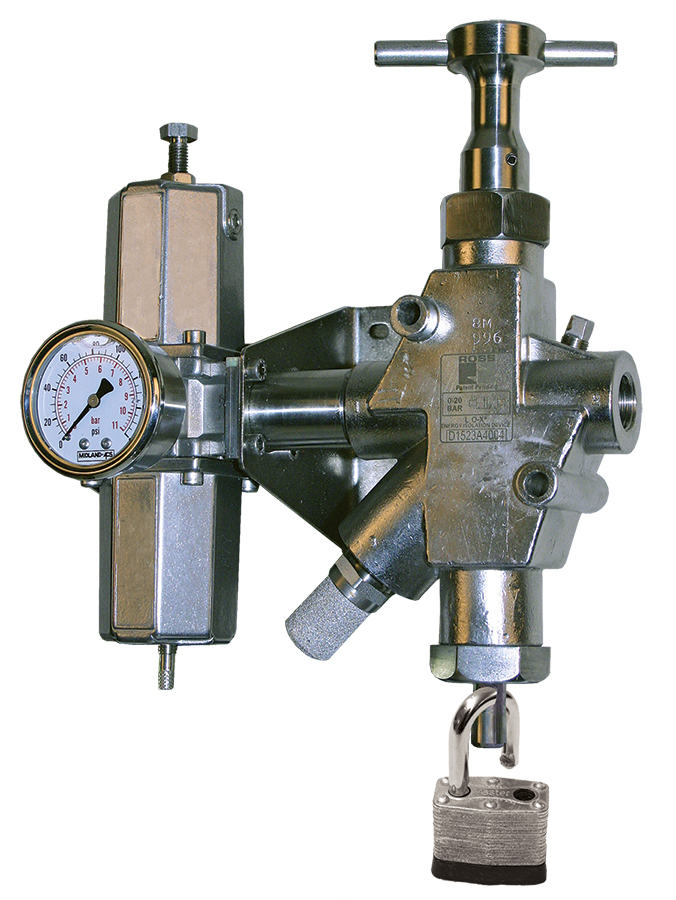 design. The products are all made with 316 stainless steel for corrosion protection in caustic environments such as the wastewater, oil, gas and pulp/paper industries.

The Stainless Steel L-O-X® valve is equipped with durable fluorocarbon seals to safeguard against contaminant ingression. Like the standard L-O-X® valve, the stainless model meets applicable safety standards such as OSHA, CSA, ISO, EN, ANSI/PMMI, ANSI and NACE. The valves:

• Are easily identifiable.
• Provide block and bleed in a single, easy action.
• Have a full-flow, threaded exhaust.
• Are lockable in only in the OFF position.
• And, provide a verification port for visible pressure release confirmation.

The unit works synergistically in that the accompanying regulator helps provide consistent system pressure for reliable performance and the filter helps prevent airline pollution which improves productivity and part quality. This compact assembly improves efficiency and streamlines procurement, making the Stainless Steel L-O-X® Air Entry Unit a valuable addition to your system.

The Stainless Steel L-O-X® Air Entry package is available with 1/4, 1/2, 3/4 and 1-inch port sizes. Additional options include stainless steel visual pressure indicator, pressure switch, and silencers. The unit provides a manual drain, but automatic drain models are also available for systems that require it.

For more information on the Stainless Steel L-O-X® Air Entry package, contact your local ROSS distributor for literature and assistance or visit ROSS' website.

ROSS CONTROLS
Established and headquartered in Michigan since 1921, ROSS CONTROLS is an international designer and ISO-certified manufacturer of pneumatic valves and controls systems. An innovative and driving force in the pneumatic safety industry for over 50 years, ROSS focuses on tailored technology to provide customers with a distinct value advantage. ROSS has subsidiaries in Germany, Japan, the United Kingdom, India, Brazil, France, and China plus 145 worldwide stocking distributors.