New Robotic Tool Changer Designed for Payloads Up to 1200KG
December, 2008: The QC-1210, a robotic Tool Changer designed for payloads up to 1200 kg (2650 lbs), is now available from ATI Industrial Automation, Apex, N.C. The QC-1210 Heavy Automation Tool Changer features three ATI patented Fail-Safe locking mechanisms to ensure high-moment capacity and strength. Compatible with existing Heavy Automation Tool Changer utility modules, the modular construction of the Tool Changer allows integration into applications requiring high-power, coolant, servo, DeviceNet™, Ethernet, and discrete signal capabilities by incorporating separate modules that can be mounted on any of the six available flats. This common module mounting pattern makes maintenance easy—increasing uniformity and flexibility. The QC-1210 uses a common Lock/Unlock air supply and a Lock/Unlock sensing method that allows end-users the option to receive one signal from the Tool Changer or one from the three individual locking mechanisms.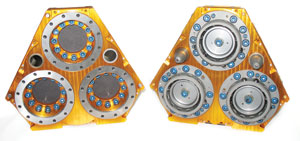 In operation, three Ready-to-Lock sensors detect when the Tool plate is within 1.5 mm (0.06 in) of the Master plate (signaling Ready-to-Lock), ensuring that the Tool plate and Master plate are parallel. No-Touch Locking™ technology allows up to 2.5 mm (0.10 in) plate separation when locking. All locking parts are made of Rc58 stainless steel and are designed for superior reliability, repeatability and strength. Integrated robot adapter plates are available for ISO 200 and ISO 250 patterns.
ATI Industrial Automation is a world-leading engineering-based developer of robotic peripheral equipment, including Automatic Tool Changers, Multi-axis Force/Torque Sensing Systems, Robotic Deburring Tools, Robotic Collision Sensors and Compliance Devices. They provide customers with high-quality robotic peripheral devices, tooling and sensors that enhance their profitability by increasing the effectiveness, flexibility and safety of automation applications. Tool Changers provide the flexibility to automatically change end-effectors or other peripheral tooling and they function reliably for millions of cycles at rated loads while maintaining extremely high repeatability.
For additional information about the QC-1210 Tool Changer and other ATI products, contact ATI Industrial Automation, Pinnacle Park, 1031 Goodworth Drive, Apex, NC 27539, phone 919-772-0115, fax 919-772-8259, www.ati-ia.com.

Editorial Contact:
Tom Balmer
NAECO, Inc.
PO Box 726
Absecon, NJ 08201
Phone/Fax: 609-266-2009