New Programmable Singleturn and Multiturn Absolute Encoders
New Bearing Design and Metal Disc Extend Encoder Lifetime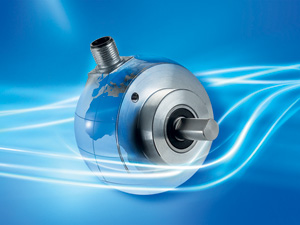 Minneapolis, Minn., Sept. 16, 2009 – SICK (www.sickusa.com), one of the world's leading manufacturers of sensors, safety systems, machine vision, and automatic identification products for factory and logistics automation, today announced the launch of its AFS Singleturn and AFM Multiturn Absolute Encoders with SSI (Synchronous Serial Interface) output. These encoders feature a new, revolutionary bearing design and metal code disc that extends the life of each encoder, helping to reduce replacement costs. The AFS60 singleturn version can be programmed to accommodate any value from 1 to 262,144 counts per revolution - something no other encoder can do. These compact encoders are ideal for applications that require precise and reliable position accuracy in robotic, mobile vehicle, packaging and general manufacturing environments.
SICK is the only company to offer a high-resolution absolute encoder, with 18 bit resolutions on the AFS60 and 30 bit resolutions on the AFM60. The new AFS60 and AFM60 encoders are ideal for reducing the number of encoders customers need in inventory and enabling the user to create custom resolutions at the click of a button.
About SICK
SICK is one of the world's leading manufacturers of sensors, safety systems and automatic identification products for industrial applications. With nearly 450 patents, SICK continues to lead the industry in new product innovations. The diversity of its product line allows SICK to offer
solutions at every phase of production in the semiconductor, automotive, packaging, electronics, food and beverage, and material handling markets. SICK was founded in 1946 and has operations or representation in 65 countries worldwide.