New Partnership Formed between LASER COMPONENTS USA, and Bolb, Inc. Slated for January 2020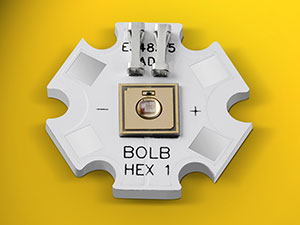 Exciting New Product Line Features the Latest in Innovative UV-LED Sanitization Technology
Bedford, NH - LASER COMPONENTS USA is pleased to announce its new partnership with Bolb, Inc., starting in January of 2020. Bolb, Inc. is a U.S.-based manufacturer of high-performance UVB/C solid-state emitters, and a leading developer of the UVC LEDs in the industry. With a world-class team, Bolb, Inc. specializes in MOCVD reactors and epitaxy, device fabrication, and advanced packaging, featuring innovative single-chip and level 2 performance for universal disinfection.
LASER COMPONENTS USA is an OEM global leader in innovative optoelectronics and laser technology, in both manufacturing and distribution. "The partnership between LASER COMPONENTS USA and Bolb, Inc. provides us with the ability to provide innovative solutions for our customer base, now and in the future," stated Huyen Vu, sales director for Laser Optics, Diodes and Modules. "Their UV LED product technology aligns with ours, creating a continuity in our product applications," Vu added.
Both companies offer products that support and benefit water treatment, healthcare delivery, agriculture and food security, and value-added white goods industries.
About LASER COMPONENTS
LASER COMPONENTS specializes in the development, manufacture, and sale of components and services in the laser and optoelectronics industry. At LASER COMPONENTS, we have been serving customers since 1982 with sales branches in five different countries. We have been producing in house since 1986 with production facilities in Germany, Canada, and the United States. In-house production makes up approximately half of our sales revenue. A family-run business, we have more than 220 employees worldwide.