New Packaging Suction Cups - High Process Safety - Long Lifetime - Samples for free!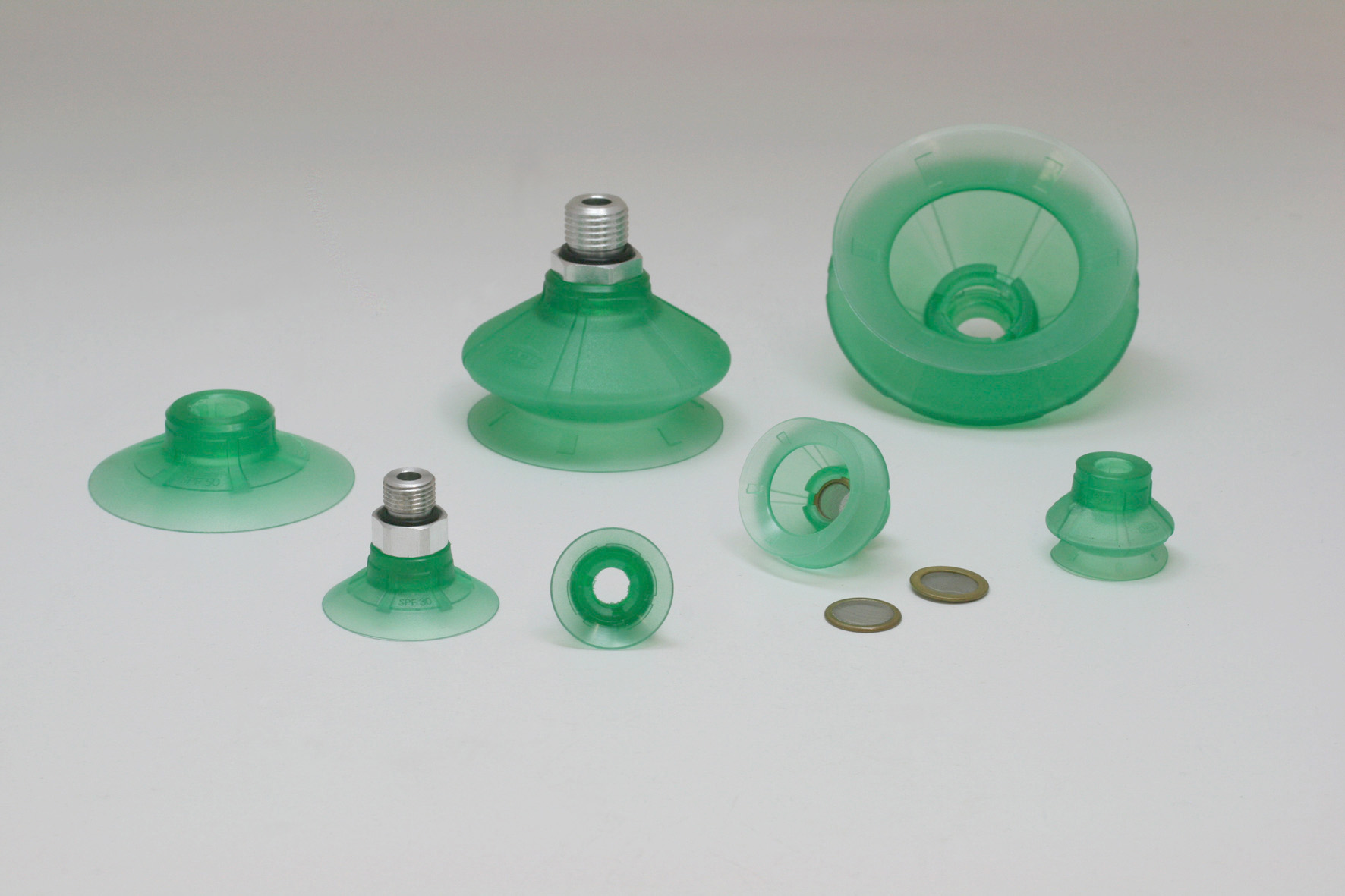 Schmalz has developed a new line of packaging suction cups especially for handling abrasive cardboard boxes and rigid packaged products:

Made of the specially developed material Elastodur, these cups are designed to be extremely durable. Elastodur has the advantage of lasting 3 times as long as the commonly used material, Perbunan (NBR).

The suction cup's reinforced main body and integrated support ribs on the suction surface guarantee maximum suction power and stability. With the bellows suction cups, additional interleaving of the sealing lip and the corrugation ensures even greater stability. Even with high lateral loads in dynamic handling processes, lateral force can be absorbed effectively.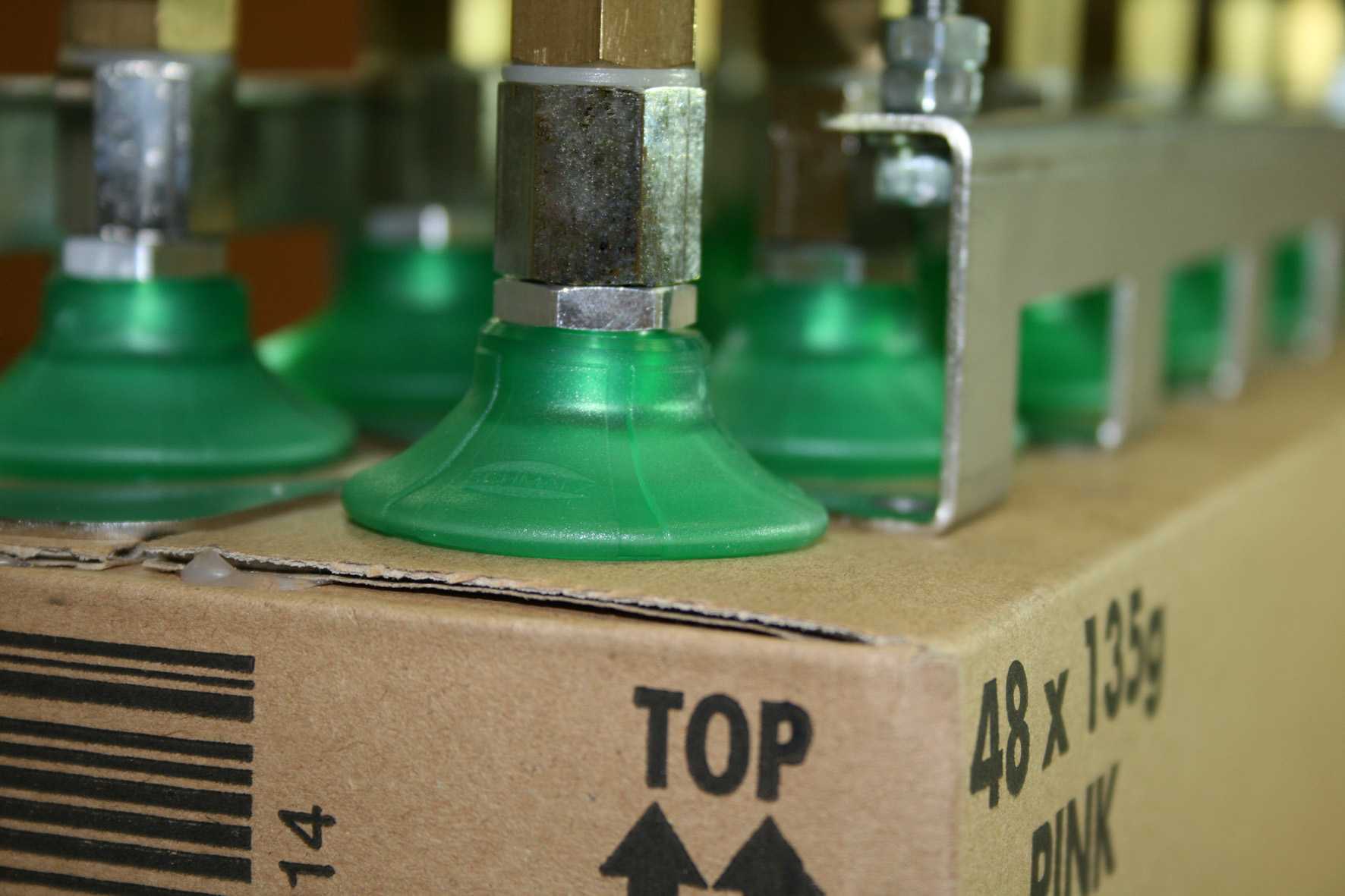 All models in the new series of packaging suction cups feature a soft and extremely flexible sealing lip. This ensures high process reliability, as the suction cups fit diverse types of cardboard boxes and rigid, packaged products and provides optimal sealing for a broad range of work pieces.
The vacuum suction cups are offered as flat suction cup model (SPF) and as two bellows suction cup models with 1.5 corrugations in either round (SPB1) or oval (SPOB1) shapes. The suction cups are available with diameters of 20 to 60 mm, dimensions of 60 x 20 mm to 150 x 60 mm and either male or female threads. Besides handling cardboard boxes and rigid packaged products the cups are also suitable for palletizing/depalletizing in handling systems and for heavy-duty applications, that is, for handling large, heavy cardboard boxes as part of an automated packaging process.
Schmalz now offers free samples of its new packaging cups. Customers can equip one packaging machine with cups for free. Call (919) 713-0880.
Schmalz is the leading supplier of Vacuum Automation Components as well as Robotic and Gantry style Vacuum Gripping Systems. Schmalz supplies modularly constructed area and layer vacuum grippers for flexible handling of varying material properties, configurations and shapes - such as non-rigid cardboard boxes, plastic film and porous materials. Schmalz grippers can handle varying dimensions and undefined positions. The product range of Vacuum Components includes suction cups in (11) standard materials and cup lines for special industry needs, e.g. Automotive cups or cups for the Packaging industry. The product range also includes vacuum generators, mounting elements and system monitoring devices. Schmalz, founded in 1910 in Germany, is family owned and operated in third generation. Schmalz is one of the few positive-energy companies worldwide and has been rewarded for its sustainability several times. Schmalz is DIN ISO 9001 and DIN ISO 14001 certified for more than 10 years.
Schmalz Inc., founded in 1999, is the US-subsidiary of Schmalz. Located in Raleigh, NC, Schmalz Inc. has its own outside sales force and Authorized Schmalz Distributors in all states. Schmalz Inc. is committed to provide an outstanding and timely service nationwide.