New Online Forum Offers Design Tips About Plastic Cable Carriers
igus Inc. has published a new addition to its Tech Talk website forum created and written by igus product managers. Tech Talk: Energy Chain Cable Carriers is designed to educate design engineers about the importance of protecting cables and hoses on automated machinery. igus Energy Chains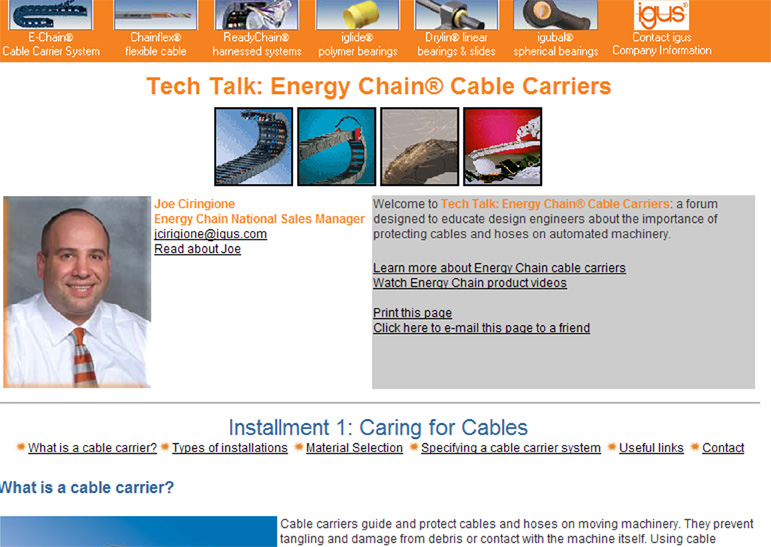 are maintenance-free, corrosion-resistant and can replace steel carriers in almost any application.

This first installment of Tech Talk: Energy Chains—Caring for Cables—outlines how to specify a cable carrier system, from types of installations and material selections to the nine crucial steps that should be followed during the process. Additional installments will follow.

National Sales and Product Manager for igus cable carriers, Joe Ciringione, offers his thirteen years of product expertise in the forum.

"Tech Talk for Energy Chains is an excellent way to educate design engineers not only about the benefits of using plastic components, but also to offer design advice for applications that need a cable carrier system," said Ciringione. "This first installment focuses on the issues that are important to consider when choosing a cable carrier. igus aims to ensure every application is equipped with the best cable carrier solution and by offering this forum, our customers can understand how this is done and why certain considerations are so important."

To read the first installment of 'Tech Talk: Energy Chain Cable Carriers', visit www.igus.com/techtalk/echain. igus also has two other online forums: 'Tech Talk: DryLin Linear Bearings' and 'Tech Talk: Triflex R Multi-Axis Energy Chains'. To read installments of each, go to www.igus.com/techtalk.