New Office Opens in Japan
Euresys expands in Asia with the opening of a new office in Japan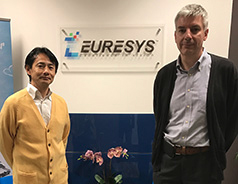 As a leader in machine vision, we are happy to announce the opening of an office in Tokyo, Japan to support our local distributors and expand our customer base.
Euresys will be represented by Kazuhiro Tanaka, Support Manager (left on the picture, with Marc Damhaut, CEO).
"This new office, close to our customers, will allow us to provide fast and efficient pre-sales support and technical services to our growing market. We will work closely with our local distributors in order to enhance our contributions to our customers' success." said Marc Damhaut, CEO of Euresys.