New! Motoman's Robotic 3D Vision Solutions: Look Into the Future with 3D Vision
At the 2009 International Robots & Vision Show, Motoman will introduce two new 3D vision tools. These powerful 3D vision solutions were developed by Yaskawa Electric Corporation, Motoman's parent company, to solve difficult automation applications and to fill a need in the marketplace for reliable vision products.
MotoEYE 3D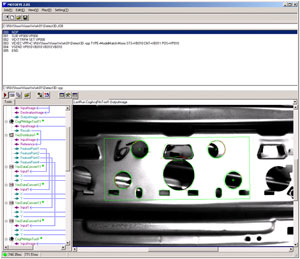 This PC-based hardware and software package is used to locate randomly stacked parts to be picked up and placed accurately into a press or machine tool. The camera, mounted on the robot, takes images from multiple locations to evaluate and calculate the location of the part relative to a known location. The system uses 2D and 2.5D calculations to refine the search area, then uses a 3D algorithm to calculate the final location of the part. At the Robots & Vision Show, a Motoman 7-axis, in-line SIA20 robot with MotoEYE 3D will demonstrate a machine loading process. Using MotoEYE 3D, the robot will locate stacked parts in 3D space, pick up the parts and load them into machines.
MotoSight 3D Advanced
MotoSight 3D Advanced utilizes Azalea, a laser scan technology developed by Yaskawa Electric. It features a high-speed CMOS vision sensor to quickly locate parts and report the position to the robot controller. At the Robots & Vision Show, a Motoman SIA10D robot integrated with MotoSight 3D Advanced will demonstrate random bin-picking; the robot will locate and pick up parts to build a structure. Key to this demonstration is the speed of the scan and the almost continuous motion of the robot. Processing of this information is done rapidly, so that the robot can move to the next part without a long pause waiting for vision processing time. The unit is connected directly to the robot controller with a communication cable and power.
Motoman is a wholly owned subsidiary of Yasakawa Electric Corporation, a worldwide leader in mechatronics and robots. We provide world-class robotic automation solutions for a wide variety of applications including arc and spot welding, assembly, coating, dispensing, material cutting, material removal, picking, packaging, palletizing, machine tending, press tending and other general material handling applications.
Source:
Motoman Inc.
Sally Fairchild
(937) 847-3202