New! Motoman's ES165D/ES200D Handling Robots Deliver Unmatched Performance, Reliability for Heavy Payload Applications
Dayton, Ohio — Versatile, high-speed Motoman ES165D and ES200D handling robots are ideal for large-payload machine and press tending applications and other handling tasks. These robots feature wide work envelopes and high moment of inertia ratings, coupled with fast axial speeds and acceleration for high-throughput processing. Compact, slim design enables the robots to reach into confined spaces, improving system productivity. Connections for servo gripper use are pre-wired through the robot's base and upper arm to the robot's wrist, which allows a wider range of product handling.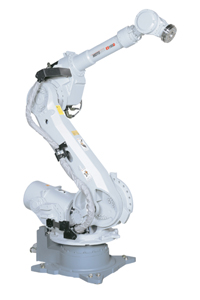 The six-axis ES165D and ES200D models feature payloads of 165 kg (363.8 lbs) and 200 kg (441 lbs) respectively. Both models have a 2,651 mm (104.4") horizontal reach and 3,372 mm (132.8") vertical reach with a repeatability of ±0.2 mm (±0.008"). The work envelope extends behind the body, allowing tools to be placed at the back and providing easy access to the tooling for maintenance. Standard ES165D and ES200D models are floor-mounted, but shelf-mounted (ES165RD and ES200RD) versions are available for layout flexibility.
Fast processing of the next-generation DX100 robot and system-level controller speeds commands for the ES165D and ES200D robots, while Motoman's patented multiple robot control (up to 8 robots/72 axes) provides superior collision avoidance features and facilitates programming. Advanced control functions optimize robot acceleration characteristics, reducing cycle time. Featuring a robust PC hardware architecture, the DX100 controller uses a Windows® CE programming pendant with color touch screen.

Source:
Motoman Inc.
Sally Fairchild
(937) 847-3202
Motoman is a wholly owned subsidiary of Yasakawa Electric Corporation, a worldwide leader in mechatronics and robots. We provide world-class robotic automation solutions for a wide variety of applications including arc and spot welding, assembly, coating, dispensing, material cutting, material removal, picking, packaging, palletizing, machine tending, press tending and other general material handling applications.