New! Motoman's EPX2050 Robot Provides Superior Performance in Coating/Dispensing Applications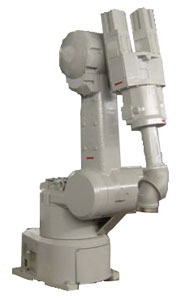 Dayton, Ohio — The high-speed EPX2050 robot provides versatility and superior performance in standard industrial, automotive and aerospace coating and dispensing applications. The six-axis EPX2050 is ideal for painting contoured parts such automotive car bodies and plastic component parts, agricultural equipment and aerospace parts. The EPX2050 robot features a Factory Mutual (FM) Class 1, Div. 1 intrinsically safe (explosion-proof) rating for use in hazardous environments.
It has a 15 kg (33.1-lb) payload capacity, 2,054 mm (80.9'') reach, and ±0.5 mm (±0.02'') repeatability. The compact, highly flexible EPX2050 robot can be floor-, wall- or ceiling-mounted to provide layout flexibility. The EPX2050 robot is available with a hollow wrist that has a 50 mm (1.97'') diameter. A hollow wrist facilitates mounting of spray equipment and interference between the hoses and parts/fixtures is avoided, ensuring optimum cycle time and robot reach/access.
The EPX2050 and other EPX-series robots use a special NX100-FM controller with a Factory Mutual (FM) Class 1, Div. 1 intrinsically safe (explosion-proof) rating. The controller features a robust PC architecture, Windows® CE programming pendant, and easy-to-use INFORM III programming language.
Motoman provides robots and complete robotic automation for virtually every application and industry. Founded in 1989, Motoman has continually gained market share and is now one of the largest robotic solution providers in North and South America with more than 28,000 robotic installations. Motoman's parent, Yaskawa Electric Corporation, is the world's leading robot manufacturer with an installed base of nearly 200,000 robots.
For more information on EPX-series robots, the NX100-FM controller, or other Motoman products and services, visit the corporate web site at www.motoman.com, call 937.847.6200, or write to Motoman Inc., 805 Liberty Lane, West Carrollton, Ohio, USA 45449.

CONTACT:
Sally Fairchild
937.847.3202