New! Motoman's EA1800N "Expert Arc" Welding Robot Provides Superior Performance with a Higher Payload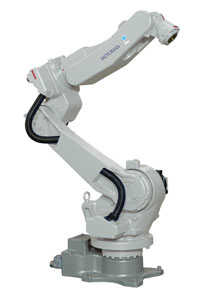 Dayton, Ohio — The high-performance, heavy-payload EA1800N "Expert Arc" welding robot is 15 percent faster and has higher allowable wrist moments than most welding robots. The EA1800N robot is ideal for welding large work pieces, and for applications requiring special servo- or water-cooled torches, or sensors (such as cameras) mounted near the torch. Its patented internal cabling design streamlines the robot profile and improves access to welds.
The six-axis EA1800N features a 15 kg (33.1-lb) payload capacity, 1,807 mm (71.1") horizontal reach (largest in its class), 3,243 mm (127.7") vertical reach and ±0.08 mm (±0.003") repeatability. The standard EA1800N robot is floor-mounted. Ceiling- or wall-mounted versions (EA1800TN) are available to provide layout flexibility.
The robot's B-axis features an expanded range of motion which improves circumferential welding on cylindrical workpieces. The T-axis (twist) can rotate the torch ±200 degrees without cable interference. A 45 mm thru-hole in the wrist allows water lines or sensor cables to be routed to the torch. The higher-payload EA1800N robot also lends itself to non-welding applications such as dispensing.
The EA1800N's hollow upper arm maintains the optimum bend radius of the welding torch cable, enhancing weld performance and extending cable life. Regardless of torch orientation or of part size or shape, the EA1800N robot prevents bent, pinched or stretched cables and minimizes wire feed problems. The torch cable is covered by the industry's first two-year warranty.
The EA1800N robot uses the advanced NX100 controller that features a robust PC architecture, Windows® CE programming pendant, and easy-to-use INFORM III programming language.
For more information on the EA1800N or other EA-series "expert arc" welding robots, the NX100 controller, or other Motoman products and services, visit the corporate web site at www.motoman.com, call 937.847.6200, or write to Motoman Inc., 805 Liberty Lane, West Carrollton, Ohio, USA 45449.

CONTACT:
Sally Fairchild
937.847.3202