New! Motoman MS80
Dayton, Ohio — Quick and agile, the six-axis Motoman MS80 "Master Spot" welding robot features an 80-kg (176.4-lb) payload and moves more than 43 percent faster than a traditional heavy-payload robot, resulting in shorter takt times and higher throughput. Uniquely designed to optimize automotive applications using DC spot guns with compact servo actuators, these slim-profile MS80 robots can be placed in close proximity to workpieces and other robots to create flexible, high-density layouts. These configurations can eliminate multiple stations, resulting in shorter production lines and smaller spot welding workcells.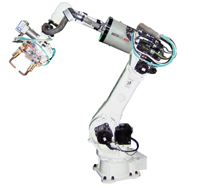 Because it uses a lighter gun, the MS80 robot uses 33 percent less power even at its faster speeds. When combined with the improved efficiency of the smaller DC guns, the MS80 robot offers a 50 percent power savings.
With a streamlined body less than 500 mm (19.69") wide, including the integrated spot harness, the compact MS80 robot has a 2,061 mm (81.14") reach with a repeatability of ±0.07 mm (0.003"). The MS80 robot is designed for use with lighter-weight but powerful X- or C-type DC gun configurations with 600-kg clamping force and 15,000-Amp capacity. Having spot utilities (power, water, air, motor and signal lines) integrated into the profile of the robot arm prevents interference and reduces programming time. Integrated harnesses also last more than six times longer than traditional harnesses, reducing maintenance and improving uptime.
Fast processing of the DX100 robot and system-level controller speeds commands for the MS80 robot, while Motoman's patented multiple robot control (up to 8 robots/72 axes) provides superior collision avoidance features and facilitates programming. Advanced control functions optimize robot acceleration characteristics, reducing cycle time. Featuring a robust PC hardware architecture, the DX100 controller uses a Windows® CE programming pendant with color touch screen.
Motoman is a wholly owned subsidiary of Yasakawa Electric Corporation, a worldwide leader in mechatronics and robots. We provide world-class robotic automation solutions for a wide variety of applications including arc and spot welding, assembly, coating, dispensing, material cutting, material removal, picking, packaging, palletizing, machine tending, press tending and other general material handling applications.
Source:
Motoman Inc.
Sally Fairchild
(937) 847-3202