New! Motoman Introduces Five-Axis MPK2 Robot: Ideal for High-Speed Food Handling, Picking, Packing
v style="margin: 0in 0in 0pt; text-indent: 0in; line-height: normal">Dayton, Ohio — Motoman's new five-axis MPK2 robot with dynamic, next-generation DXM100 controller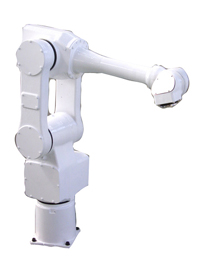 provides superior performance in food handling, picking, packing and other high-speed material handling applications, particularly in environments where cleanliness is important. Ready for food applications with National Sanitation Foundation (NSF-H1) certified grease, the MPK2 robot features an IP-67 rating that permits washdown, even with certain caustic chemicals. The MPK2 robot features a hollow arm design that allows cables and hoses to be run internally throughout the entire robot from base to wrist. Its slim arm design and internal cabling allow the MPK2 robot to reach into confined spaces without interference, reducing maintenance and facilitating programming.
Fast, flexible and compact, the MPK2 robot has a 1,625 mm (64") vertical reach, 900 mm (35.4") horizontal reach, and its minimal interference radius provides application flexibility and the largest work envelope in its class. The 2 kg (4.4 lb) payload increases to 4 kg (8.8 lbs) for applications where the T-axis is used parallel to the floor (wrist down). Fast axial speeds and acceleration reduce cycle times and increase production output.
A top wrist speed of 2,000 degrees per second provides maximum productivity, even when parts need to be rotated more than 90 degrees. Repeatability is ±0.5 mm (±0.02"). The MPK2 robot can be floor-, ceiling- or wall-mounted. It is available with optional vision and conveyor tracking.
The MPK2 robot uses a dynamic DXM100 controller with a smaller cabinet size for layout flexibility. Using patented multiple robot control technology, the next-generation DXM100 easily handles multiple tasks and controls up to eight robots (72 axes
), I/O devices, and communication protocols.
Featuring a robust PC architecture with unmatched memory capacity, the DXM100 uses a Windows® CE programming pendant withcolor touch screen. The energy-saving DXM100 features faster processing speeds for smoother interpolation, advanced robot arm motion, built-in collision avoidance, quicker I/O response, and accelerated Ethernet communication. Its extensive I/O suite includes integral PLC and HMI pendant displays, 2,048 I/O and a graphical ladder editor that can provide system level control. The DXM100 supports all major fieldbus networks. It is compliant to ANSI/RIA 15.06-1999 and other relevant ISO and CSA safety standards.



Motoman is a wholly owned subsidiary of Yasakawa Electric Corporation, a worldwide leader in mechatronics and robots. We provide world-class robotic automation solutions for a wide variety of applications including arc and spot welding, assembly, coating, dispensing, material cutting, material removal, picking, packaging, palletizing, machine tending, press tending and other general material handling applications.
Source:
Motoman Inc.
Sally Fairchild
(937) 847-3202