New Motoman EasyLoad™ Machine Tending Software Provides Conversational, Graphics-based Robot Programming
Day

ton, Ohio — Conversational programming meets industrial robotics in Motoman's new EasyLoad™ machine tending software. Using graphics, rather than text, and a touch screen interface on the Motoman NX100 robot programming pendant, an EasyLoad software wizard guides even non-programmers with minimal knowledge of robot operation through simple step-by-step procedures to create complete, custom robot programs for the desired machine tending process. EasyLoad speeds programming and enhances productivity by reducing robot downtime for teaching. It maximizes capital investment in automation by allowing one robot to perform a multitude of processes on a wide variety of parts.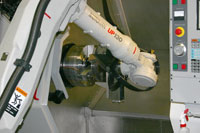 Job setup is fast and easy, and so is making changes during a production run. Videos on the pendant demonstrate key features. Using the touch screen, the operator enters critical dimensions for the part and other processes within the cell, selects machines for each operation and a sequence of operations. Next, the operator attaches simple teaching aids to the robot arm, teaches three touch-off positions for each machine and pickup/set-down position, and removes the teaching aids. Once the required data is entered, the EasyLoad software automatically generates the robot program, including all basic logic and safety signals, using pre-defined templates. These templates can be customized, as needed.

EasyLoad works with a variety of grippers and handles a wide range of Haas machine tools as well as infeed, outfeed and process equipment. It can be used with Motoman's NX100 robot controller and is compatible with Haas SL-series lathes and VF-series mills with Robot Ready interface and automatic doors.

For more information on EasyLoad or other Motoman products and services, visit our corporate web site at www.motoman.com, call 937.847.6200, or write to Motoman Inc., 805 Liberty Lane, West Carrollton, Ohio, USA 45449.