New! Motoman 7-Axis VA1400 "Versatile Arc" Welding Robot: Ideal for High-Density Layouts
Dayton
, Ohio
— Fast and highly flexible, Motoman's new 7-axis VA1400 "Versatile Arc" welding robot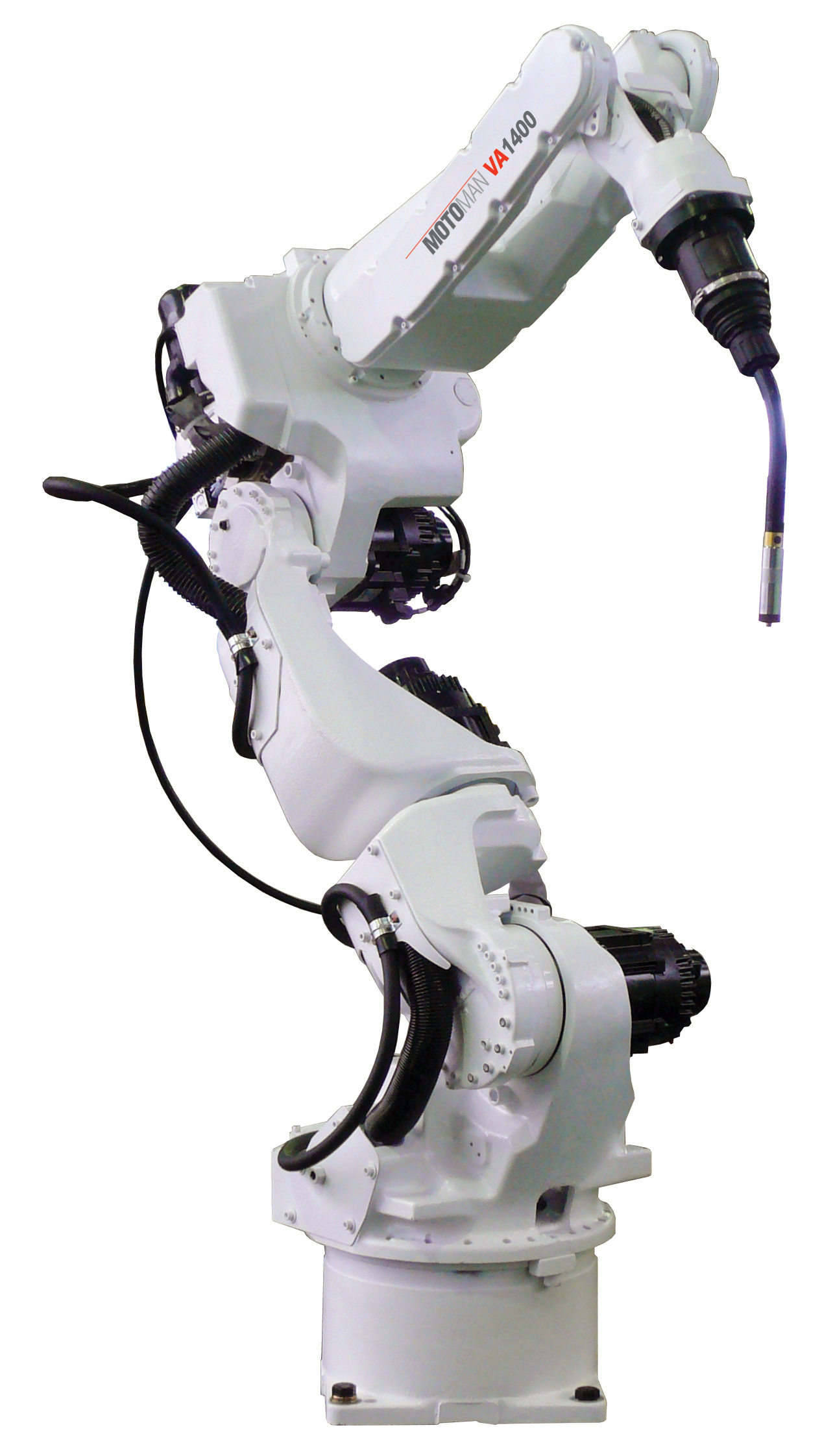 dramatically increases freedom of movement and maintains proper welding posture at all times. Located in the lower arm, the seventh axis (E-axis) acts as an elbow, providing improved torch access into tight places and allowing the robot to easily reach both sides of a part. Available in floor-, wall- or ceiling mounted configurations and ideal for high-density layouts, the space-saving VA1400 robot increases productivity and provides the ultimate in welding performance.
The VA1400 robot has a 3 kg (6.6-lb) payload, 1,434 mm (56.5") horizontal reach, 2,475 mm (97.4") vertical reach, and ±0.08 mm (±0.003") repeatability. It features integrated through-the-arm torch cabling, which eliminates cable interference, simplifies programming and reduces cable wear. Power cable and welding utilities (gas and air hoses) can be routed through the robot base.
The VA1400 is perfectly suited for use in high-density workcells with multiple robots working in close proximity, as well as for applications that require access to parts in tight spots or those with potential interference from fixtures. The superior welding access provided by the VA1400's seventh axis often makes it possible to consolidate cells and simplify equipment, by eliminating the need for a part positioner.
The VA1400 robot uses Motoman's dynamic, next-generation DX100 controller that includes patented multiple robot control technology to easily handle multiple tasks and control up to eight robots (72 axes), I/O devices, and communication protocols. Featuring a robust PC architecture with unmatched memory capacity, the DX100 uses a Windows® CE programming pendant with color touch screen. The energy-saving DX100 controller features faster processing speeds for smoother interpolation, advanced robot arm motion, built-in collision avoidance, quicker I/O response, and accelerated Ethernet communication. Its extensive I/O suite includes integral PLC and HMI pendant displays, 2,048 I/O and a graphical ladder editor that can provide system level control. The DX100 controller supports all major fieldbus networks. It is compliant to ANSI/RIA 15.06-1999 and other relevant ISO and CSA safety standards.



Motoman is a wholly owned subsidiary of Yasakawa Electric Corporation, a worldwide leader in mechatronics and robots. We provide world-class robotic automation solutions for a wide variety of applications including arc and spot welding, assembly, coating, dispensing, material cutting, material removal, picking, packaging, palletizing, machine tending, press tending and other general material handling applications.
Source:
Motoman Inc.
Sally Fairchild
(937) 847-3202