New Modular Safety Controller Efficiently Adapts to a Variety of Safety Applications
Modular design of Flexi Soft enables users to build only what they need
SICK (www.sickusa.com), one of the world's leading manufacturers of sensors, safety systems, machine vision, and automatic identification products for factory and logistics automation, today announced the launch of its FX3 Flexi Soft Modular Safety Controller. Flexi Soft is a software programmable, expandable, easy-to-commission safety controller that can be efficiently adapted to a variety of safety applications for small- to medium-sized machines.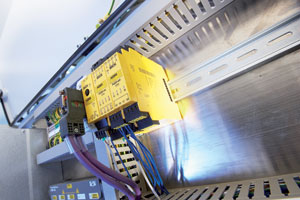 Thanks to a modular hardware platform, the controller expands module by module (12-144 inputs/outputs), saving space in the control cabinet while optimizing cost and providing flexibility for future expansion; users only build what they need. Increased productivity is possible with advanced features such as: Fast Shut-Off, EFI and Network Communications (8 ms). Fast Shut-Off increases response time and reduces the overall foot-print of the machine or process. Integration of EFI (Enhanced Functional Interface) and all leading network communication: EtherNet/IP, PROFIBUS-DP, PROFINET, CANopen, Ethernet TCP/IP, and Modbus TCP reduces wiring, provides better diagnostics and a clear competitive advantage over the competition. Network gateways will also be launched in the future.
Hardware and software configuration of the Flexi Soft system is done via the "Flexi Soft Designer." This is a function block based logic editor using drag & drop. Once a system is configured, it is then saved and stored in the memory plug. The memory plug is attached to the power, reducing tampering. Up to 255 logic blocks are available. These consist of general (AND/OR/XOR/NOT) blocks and application-specific (Bypass, Muting, Press) blocks. A comprehensive library of 32 certified function blocks is also available. In addition, the free software offers up to date diagnostics, simulation mode, error history reports, specific tag names, online monitoring and much, much more. The "Flexi Soft Designer" is downloadable at www.sickusa.com/flexi.
About SICK
SICK is one of the world's leading manufacturers of sensors, safety systems and automatic identification products for industrial applications. With nearly 450 patents, SICK continues to lead the industry in new product innovations. The diversity of its product line allows SICK to offer solutions at every phase of production in the logistics, automotive, packaging, electronics, food and beverage, and material handling markets. SICK was founded in 1946 and has operations or representation in 65 countries worldwide.