New Models in the 5 Megapixel Class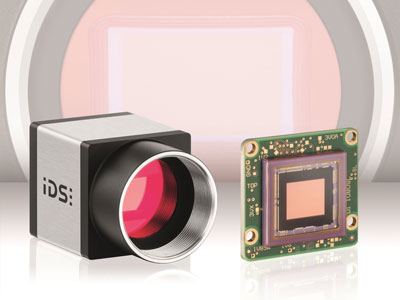 USB 3.0 industrial cameras with Sony IMX250 and IMX264 CMOS sensors
The USB 3.0 industrial cameras from camera manufacturer IDS will be available soon with second-generation CMOS sensors of Sony's Pregius series. The 2/3" IMX250 and IMX264 sensors provide a resolution of 5 megapixels (2456 x 2054) and, due to the advanced 3.45 µm pixel structure, they deliver excellent image quality and extremely low-noise images even under low-light conditions. In combination with the IDS Software Suite, some interesting features will be available including triggered linescan mode, multi AOI, and long exposure up to 30 seconds.
The new industrial cameras of the USB 3 uEye CP family are expected to be available in summer 2016. They will be suitable for classical machine vision applications as well as for inspection tasks on fast-moving objects, for applications in microscopy, or in the ITS market. The CMOS camera provides an integrated image memory, and it can be used flexibly due to its compact dimensions measuring only 29 x 29 x 29 mm, the robust magnesium housing, and screw-on Micro USB 3.0 and Hirose connectors.
The Sony IMX250 global shutter CMOS sensor achieves a frame rate of 77 fps in the camera model UI-3080CP while its "little brother" Sony IMX264 reaches 36 frames per second in the camera model UI-3280CP. The latter camera might be interesting especially for users who prefer a more cost-effective option and have no need for high frame rates.
The IMX250 provides a number of interesting features that can be used in combination with IDS' own driver package. By using the triggered linescan mode, for example, expensive linescan cameras can be easily replaced in many applications. Long exposure of up to 30 seconds is also possible which allows perfect images even under low-light conditions. In addition, the USB industrial camera provides features such as a variable speed shutter, and the monochrome version of the cameras also provide a so-called pixel addition feature.
Company Contact
Jan Jordan
Tel: +49 / 7134 / 961 96 - 154