New MicroHAWK V/F400 and V/F300 Series Smart Cameras from Omron simplify inspections with ultra-small footprints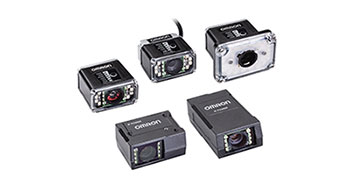 Industrial automation solutions provider Omron Automation Americas recently launched the V/F400 and V/F300 Series Smart Cameras, the latest additions to its popular MicroHAWK line that combines code reading and vision inspection capabilities into a single device.
Hoffman Estates, IL. – There's a new solution available for manufacturers who are concerned that their product inspections are becoming too complex. The powerful yet compact MicroHAWK V/F400 and V/F300 Series Smart Cameras simplify applications by combining code reading and vision inspection into a single, highly compact device.
By bundling multiple capabilities in one, the V/F400 and V/F300 Series lower hardware costs and minimize the work required for commissioning and maintenance. Powerful technologies such as liquid lens autofocus and a high-resolution 5-megapixel color camera ensure exceptional precision while promoting greater flexibility in production line layouts.
The cutting-edge autofocus technology ensures that the camera can reliably inspect products that vary in size, shape, or desired inspection type. In addition, Omron's advanced X-Mode algorithms can read any code on any surface, including curved, shiny or otherwise textured materials, minimizing downtime and keeping production moving smoothly.
The compact size of the V/F400 and V/F300 Series makes it easy to embed them within space-constrained equipment or mount them on small robots. Their wide variety of supported communication interfaces include Ethernet/IP and PROFINET for added flexibility.
Industry professionals interested in replacing multiple purpose cameras and code readers with a single device are encouraged to visit the MicroHAWK V/F400 and V/F300 Series product page on Omron's website.
About Omron Automation
Omron Automation is an industrial automation partner that creates, sells and services fully integrated automation solutions that include sensing, control, safety, vision, motion, robotics and more. Established in 1933 and currently headed by President Yoshihito Yamada, Omron's 36,000 employees help businesses solve problems with creativity in more than 110 countries.