New MGC Series Regenerative SCR Control for OEM Applications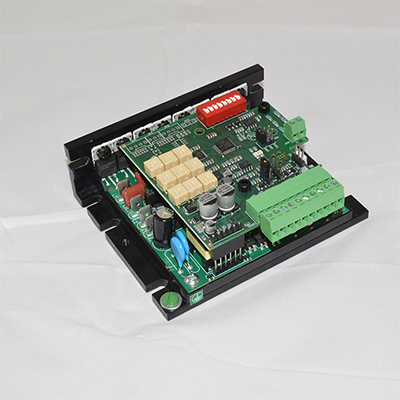 Out-of-the-box multi-mode operation at a competitive cost
SOUTH BELOIT, IL – American Control Electronics (ACE) announces the MGC Series, a new microprocessor-based fully regenerative SCR control. An on-board microprocessor allows ACE to preconfigure the MGC for a customer's specific application. OEMs can select various modes of operation out of the box, including: Torque, Linear Torque, Independent Speed/Torque, Cycling via Limit Switches, Cycling via Feedback, and Positioning.
The competitively-priced MGC eliminates the need for additional items such as relays, switches and PLCs, reducing setup and installation time. A new current-limiting algorithm prevents overshoot, extending brush life and reducing demagnetization, which extends motor life.
Highlights of the MGC series include:
115 or 230 VAC power source, 50 or 60 Hz single phase
Designed for 90 or 180 VDC PMDC motors
Maximum current rating: 11 amps (equivalent to 2 HP @ 180 VDC)
1.37 SCR form factor at motor's rated speed
Maximum temperature: 50 degrees Celsius
Under 50 Hz vibration = 0.5G, Over 50 Hz vibration + 0.1G
UL listed US & Canada (UL61800-5-1)
About American Control Electronics
American Control Electronics (ACE) is an electronics manufacturer located in South Beloit, IL and parent company for the Minarik Drives brand. American Control Electronics designs and produces a wide variety of AC & DC electronic control systems and power products used in industrial, commercial, EV, medical, and home automation markets. American Control Electronics has also developed several "Green" products that control motors from battery and/or photovoltaic power. The Minarik Drives brand has a 60-year reputation and is the standard for products in its class. American Control Electronics designs unique product solutions to meet the specific needs of its customers.
All products are designed and built in our United States location, which is both ISO 9001:2008 registered and UL508A certified.
Company Contact
Brandon Jones
Tel: 844.262.6875
PR Contact
Julie Eleftheriou
Tel: 952.913.3065