New Mechanically Compatible Absolute Shafted Angle Encoders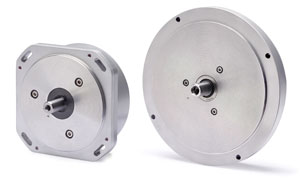 SCHAUMBURG, IL – HEIDENHAIN CORPORATION is pleased to announce the start of series production of their ROC 2000 and ROC 7000, a new family of Absolute Solid Shafted Angle Encoders. Using the same mechanical connections and "footprint" as their incremental cousins (the ROD series), and the same scanning principles as their hollow shafted siblings (the RCN series), the ROC series is the best of both worlds! These new circular scales feature an absolute track with serial code structure and an incremental track that is scanned by means of robust, single field scanning… so there is no need for a homing routine at power-up.
These ROC angle encoders with integral bearing and solid shaft are especially useful for applications that require higher shaft speeds or larger mounting tolerances. A separate rotor coupling is used for coupling the shaft. This makes it possible to realize axial tolerances of up to ±1 mm depending on the rotor coupling used. The rotor couplings are capable of compensating for axial motion and misalignment between the encoder shaft and the measured shaft.
These new ROC angle encoders are useful for both new applications or for an upgrade of an existing installation to absolute technology.
About Heidenhain Corporation
HEIDENHAIN CORPORATION is the North American subsidiary of DR. JOHANNES HEIDENHAIN GmbH, a leading international manufacturer of precision measurement and control equipment. Our product line includes linear scales, rotary and angular encoders, digital readouts, digital length gages, CNC controls, and machine inspection equipment.
Company Contact
Thomas F. LaRocca - HEIDENHAIN Product Specialist
Tel: 847-519-3398