New Low-Voltage Motor Control with Single Phase AC Line Source Enables Faster Braking and Easy Custom Programming for OEMs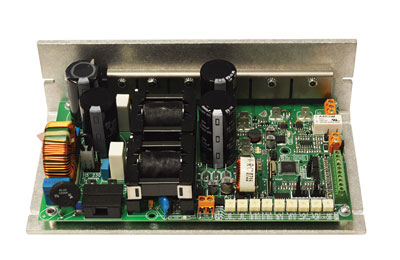 SOUTH BELOIT, IL – American Control Electronics (ACE) announces the DCH403-10, a low voltage motor control with single phase AC line source. The DCH403-10 combines a custom regen-capable switching power supply with a low voltage drive to allow control over low voltage motors without the negative effects of current spikes or the large BUS voltage associated with typical 115/230 VAC controls. Additionally, the unit's built-in circuitry diverts regenerative current to a dump resistor, allowing for quicker braking than most PWM drives. The DCH Series is ideal for applications including solar-powered devices, mobile equipment and actuator control.
Features of the DCH403-10 Motor Control include:
4-Quadrant drive
N.O. an N.C. contacts for alarm output
Contact can be used to power an external brake coil
Torque mode functionality
Capable of auto-cycling with limit switches
Resistive feedback for positioning control
Allows floating or grounded 0 - ± 5 VDC, 0 - ± 10 VDC or 4 – 20 mA signals
About American Control Electronics
For over 60 years, American Control Electronics (ACE) has designed and produced a wide variety of AC & DC electronic control systems and power products used in industrial, commercial, EV, medical, and home automation markets. American Control Electronics, based in South Beloit, IL, has also developed several "Green" products that control motors from battery and/or photovoltaic power. Core product families include wall voltage DC, wall voltage AC, low voltage and actuator control. Custom control solutions are also available for OEMs that wish to simplify their design, differentiate their products, or increase profitability. All products are designed and built in our United States location, which is both ISO 9001:2008 registered and UL508A certified.
Company Conatact
Brandon Jones
Tel: 844.262.6875
PR Contact
Julie Eleftheriou
Tel: 952.913.3065