New Low-Cost, High-Performance Alternative to Rod Actuators and Pneumatic Cylinders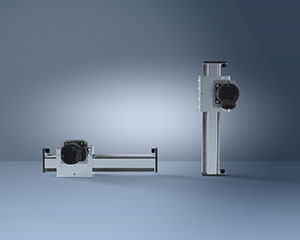 Bell-Everman has launched ServoBelt™ RA, a new high-performance, drop-in replacement actuator designed for applications that have traditionally used rod actuators, pneumatic cylinders or even linear motors. Unlike traditional rod actuators, ServoBelt RA is fully guided along the entirety of its stroke, making it more resistant to off-axis loads and more stable in on-axis moves.
With linear forces up to 200 N, speeds up to 4 m/s, accuracy to +/- 4μm per meter and bi-directional repeatability as low as +/- 25μm depending on deceleration profile, ServoBelt RA performance compares favorably to linear motors that cost thousands more.
ServoBelt RA has been built from the ground up for moving chassis installation in both horizontal and vertical Z-axis orientations. Its drive unit features standard or custom mounting hole patterns to make it easy to integrate ServoBelt RA into your machines. A range of standard motor offerings enables the replacement of pneumatic cylinders simply by connecting DC power and rerouting servo-valve signals to the ServoBelt RA.
About Bell-Everman
Bell-Everman Inc. was founded in 1991 with the goal of creating motion devices that offer best-of-class precision, quality and value. Since then, our motion control technologies have been incorporated into a wide variety of automation and metrology systems—including those found in the aerospace, biomedical, semiconductor, electronics assembly, laser and water jet cutting, CNC machining and packaging industries. Today our product line comprises precision linear bearings, linear motion positioning devices, rotary stages and complete multi-axis robotic systems. All of the products are designed and built in our own facility in Southern California.