New Lean Manufacturing Podcast Series Launched by Bosch Rexroth
Manufacturers and OEMs can improve their "lean" performance through the proven strategies and lean principles presented in Bosch Rexroth's new "Lean Manufacturing" podcast series featuring notable industry experts.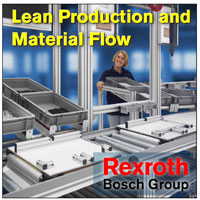 (Buchanan, MI – www.boschrexroth-us.com/lean) Bosch Rexroth has launched the first episode in a new series of innovative and informative lean manufacturing podcasts available for listening or free download from the company's website at www.boschrexroth-us.com/leanpodcast.

The first episode, titled "Developing Front-line Supervisors to Succeed in a Lean Environment," features lean manufacturing expert Jamie Flinchbaugh, co-founder of the Lean Learning Center and co-author of the popular book The Hitchhiker's Guide to Lean. Flinchbaugh examines the critical role front-line supervisors play in helping their companies successfully implement and sustain lean manufacturing practices. He also discusses guidelines for ensuring that supervisors are effectively trained and supported to fulfill their roles in lean operations. All too often, he says, front-line supervisors who are expected to perform in a lean environment are not equipped with the specific skills they need compared to those used by traditional supervisors.

Developed by Bosch Rexroth's Linear Motion and Assembly Technologies group, each eight- to ten-minute lean manufacturing podcast episode will present guest experts and information to help manufacturers and OEMs understand and apply lean principles and practices in their businesses.

"We want to give listeners a resource they can use to hear some unique and new approaches to lean techniques and principles," explained Kevin Gingerich, marketing manager. "With this lean manufacturing audio series we're going to show how to apply lean concepts in some fresh and unexpected ways, so OEMs and manufacturers can use lean more effectively to transform their companies' performance," he said.

Topics scheduled for future Rexroth lean manufacturing podcasts include discussions on applying lean principles to the engineering process, tips on designing manufacturing equipment for a lean environment, lean manufacturing case studies, and more.

Bosch Rexroth AG, part of the Bosch Group, achieved sales of approximately $6.2 billion (4.9 billion Euros) in 2006 with over 29,800 employees. Under the brand name of Rexroth the company offers all drive and control technologies, from mechanics, hydraulics and pneumatics to electronics and associated service. Over 500,000 customers worldwide utilize Rexroth's unique technological know-how to implement their innovative and future-oriented systems and machine concepts. The global player, represented in over 80 countries, is an extensive supplier of components and systems for industrial and factory automation and mobile applications.