New Kollmorgen.com Delivers Solutions-driven User Experience
New content and information architecture, better tools and improved onsite search enables users to quickly and easily find the information they need to help build differentiated machines, faster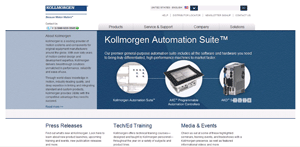 Kollmorgen introduces the new Kollmorgen.com - a redesigned and content-rich website that helps machine builders quickly and easily find the motion and machine automation information they need to make informed decisions and build machines with a competitive advantage. The site provides intuitive navigation through updated product and industry solutions content; service, support, design, technical training and education resources; and other tools including a virtual tradeshow booth, an enhanced distributor locator with user-selectable filters, and quick access to social media content and registration. Users will also benefit from improved onsite search capabilities, with results that include PDF files and Word documents.
"The new Kollmorgen.com provides OEMs with better, easier-to-find information on Kollmorgen's products and services in order to help them build truly differentiated machines," says Marisa Rave, Director of Global Marketing Communications. "Kollmorgen.com is a solutions-centric site that exhibits how combining programming, software, best-in-class components and engineering services, along with a global manufacturing footprint, will help machine designers, builders and even end users solve their motion control challenges."
The updated product pages provide better and more easily navigable information on Kollmorgen's complete family of machine controls, vehicle controls, vehicle power generation, motors, drives, linear positioners, gearheads and accessories. Product detail pages offer an enhanced image gallery with zoom-in options, related content/companion products, call outs, plus direct links to product sizing and selection tools.
The updated industry solution pages provide specific details of how Kollmorgen provides motion solutions in a wide variety of challenging applications and industries, including aerospace and defense, packaging and converting, postal sorting, tire and rubber, machine tools, food and beverage, pharmaceutical, medical, printing and Automated Guided Vehicles (AGVs). Solution pages include links to the products that support those particular applications.
ABOUT KOLLMORGEN
Kollmorgen is a leading provider of motion systems and components for machine builders around the globe, with over 70 years of motion control design and application expertise.
Through world-class knowledge in motion, industry-leading quality and deep expertise in linking and integrating standard and custom products, Kollmorgen delivers breakthrough solutions unmatched in performance, reliability and ease-of-use, giving machine builders an irrefutable marketplace advantage.