New JAI camera delivers 26-megapixel images at 150 fps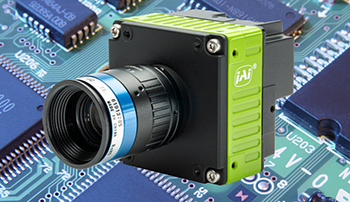 SAN JOSE, CA – JAI has introduced the Spark Series SP-25000-CXP4A, a new 26-megapixel high performance industrial area scan camera capable of providing full resolution images at 150 frames per second. The new camera is available in monochrome and Bayer color versions which are equipped with four-channel CoaXPress v2.0 interfaces capable of providing data transfer at the fastest rate currently supported by the CoaXPress standard – 12.5 Gbps per lane (50 Gbps total).
With its combination of high resolution, high frame rate, and C-mount optical format, the SP-25000-CXP4 is designed to provide an upgrade path for customers using older 12-megapixel or 16-megapixel cameras in applications like automated optical inspection (AOI) or solder paste inspection (SPI) on printed circuit boards, as well as high-speed medical slide scanning, aerial imaging, and other applications where resolution and high frame rates are critical factors. By delivering higher resolution images while maintaining frame rates which are comparable to the fastest 16-megapixel cameras, these new cameras enable builders of these types of inspection systems to achieve detailed inspections over large areas with fewer cameras or fewer image captures, providing better throughput at lower system costs.
The SP-25000-CXP4 models incorporate the Gpixel GMAX0505 CMOS Global Shutter imager with a resolution of 5120 x 5120 pixels. The 2.5-micron pixel size results in a 1.1-inch optical format supporting the use of C-mount lenses to provide additional system savings in both cost and size.
Standard camera features include both single ROI and multi-ROI modes which can increase frame rates or reduce data volumes for certain applications. Other notable features include horizontal/vertical image flipping, a 128-index Sequencer function, an auto-level control (ALC) function that intelligently integrates auto-gain and auto-shutter actions, and a lens control capability for transferring commands to lenses connected via Birger Mounts.
The CoaXPress v2.0 interface lets users take advantage of link sharing capabilities for high-speed parallel processing of images that are split across multiple PCs or the same image can be duplicated to multiple PCs with different sub-applications running on each.
Overall size of the cameras is a compact 62 x 62 x 60.5 mm including lens mount and cooling fins.
About JAI
JAI is a manufacturer of high quality, industrial-grade cameras for the machine vision, transportation, food & beverage, aerospace, medical and scientific markets.
JAI's broad product line features high performance progressive scan CMOS cameras with spatial resolutions up to 45 megapixels. It also includes a range of innovative multi-sensor prism-block cameras including both area scan and line scan models.
Physical interfaces include the Camera Link®, GigE Vision®, CoaXPress, and USB3 Vision high performance digital standards, as well as SFP+ fiber optic transmission.
JAI cameras help improve customer businesses in a variety of ways, whether by improving quality and accuracy, lowering costs, increasing yields, or simply enabling better service. In addition to cameras, JAI's traffic solutions group is one of the world's leading manufacturers of specialized traffic systems. Solutions are based on JAI-developed hardware and software, which is often integrated with third-party products.