New IP 69K-Rated W12-3 Photoelectric Sensor Withstands Wash Down in Food and Beverage, Packaging and Pharmaceutical Environments
OES3 Technology Offers Exceptional Background and Foreground Suppression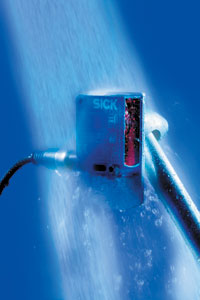 Minneapolis, Minn., September 2, 2009 – SICK (www.sickusa.com), one of the world's leading manufacturers of sensors, safety systems, machine vision, and automatic identification products for factory and logistics automation, today announced the launch of its IP 69K-rated W12-3 Photoelectric Sensors for harsh wash down environments. These sensors use SICK's third generation custom ASIC (application-specific integrated circuit) that incorporates OES3 technology to provide exceptional background and foreground suppression at an extended range. The OES3 chip contains proprietary technology that enables the W12-3 to ignore stray background reflections, detect multi-colored/shiny objects, and provide high immunity to ambient light.
The W12-3 is the newest high-performance sensor in the W12 Photoelectric Sensor Family. Both non-programmable and potentiometer versions of the W12-3 feature an IP 69K-rated metal housing (made of die cast zinc) that enables the sensor to withstand harsh cleaning agents in food and beverage, packaging and pharmaceutical environments. In addition, the W12-3 offers multiple mounting options (dovetail base and back mount, flanged-base through hole, diagonal through holes) and a 270° rotatable connection for flexible installation.

About SICK
SICK is one of the world's leading manufacturers of sensors, safety systems and automatic identification products for industrial applications. With nearly 450 patents, SICK continues to lead the industry in new product innovations. The diversity of its product line allows SICK to offer
solutions at every phase of production in the semiconductor, automotive, packaging, electronics, food and beverage, and material handling markets. SICK was founded in 1946 and has operations or representation in 65 countries worldwide.
Contact:
Tracie Manor, Public Relations
952-829-4728
www.sickusa.com