New Inductive Proximity and Magneto Resistive Sensors Enhance IoT4.0 Connectivity for Nexen Brake Families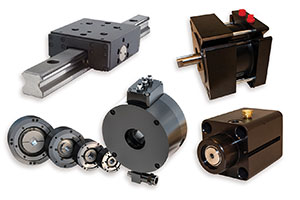 Vadnais Heights, MN – Nexen Group, Nexen Servo, Rail, and ZSE brake lines now have Industry 4.0 connectivity sensor options to enhance machine efficiency. Multiple sensors integrated into the brake families provide information about brake operation and health to the control system network.
The sensors used in the spring operated, air released ZSE brakes provide operation information such as brake engagement/disengagement and temperature. Information provided by the sensors is shared with the control network to aid in motor/drive programming, avoid brake overheating, and extend brake life. ZSE flange mounted, through bore, spring engaged brakes provide true zero backlash, low inertia, and high rigidity for precision holding applications. Rated for more than 2,000,000 holding cycles.
Nexen Rail brakes equipped with magneto-resistive sensors are used to sense brake engagement and disengagement. Industry 4.0 Connectivity to the control network aides in accurate linear positioning, predictive maintenance, and operational feedback. The engagement sensor is activated when the pistons and facing pair move out of the disengaged position and the facings transmit force to the rail. The disengagement sensor is activated when the rated air pressure is applied and the piston facing pair move to a disengaged position. Nexen's RB Series of linear profile guide rail brakes uses spring force to secure the load in holding applications. These profile rail brakes hold position accurately by reducing drive train backlash and elasticity.
Similarly, the Servomotor brake can be equipped with three inductive proximity sensors used to monitor disengagement, engagement, and wear. Using IO-Link v1.0 fieldbus connectivity, data can be shared within the control network to aid in motor/drive programming, predictive maintenance, and operational feedback.The disengagement and engagement sensors activate in a similar manner to the rail brake. The wear sensor activates when the brake is engaged and the facing is worn to a point that it needs to be replaced. Spring engaged, air released servo motor brakes mount to the shaft end of servo motors up to 20 horsepower. The brake acts as an adapter between dissimilar mounting features.The brake bore accepts the motor shaft that is fixed inside the brake with a split hub/shaft collar. This brake is a high-torque, zero backlash device.
All sensors are available in NPN (sinking) or PNP (sourcing) normally open switches, operated from a 10 – 30 Vdc supply. The sensors supply 100ma of current and include various protection features such as short circuit and reverse voltage.
With the Industry 4.0 connectivity options, the Nexen brake families are ideal for applications in a variety of markets, including assembly/inspection, automotive, consumer goods, pharmaceutical, and factory automation.
About Nexen Group, Inc.
Our heritage is built on producing technically superior products while providing the highest level of customer support. As a leading manufacturer of precision motion control components, power transmission and web tension control products, Nexen works to remain at the forefront of cutting edge engineering and production excellence. Our production capabilities include computerized control and testing systems, dry cutting applications, special coating processes, over 80 multi-axis precision CNC machine tools and automated assembly. By working with Nexen, our customers experience innovations that adhere to industry specifications, optimize their metrics and provide solutions focused on increased uptime, longer machine life and reduced maintenance.