New Imaging Optics Catalog and Technical Content
rong>A Must Have Resource for Imaging Solutions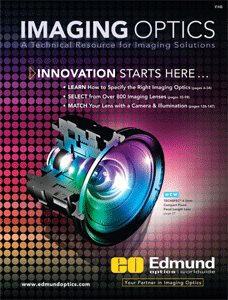 Barrington, NJ - Edmund Optics®, the premier provider of optical components, has just released its latest catalog designed exclusively for their imaging, machine vision, and inspection customers. The catalog features over 800 unique stock imaging lenses, cameras, filters, illumination, and more.

"Edmund Optics prides itself on being your complete imaging solutions provider. With our extensive product line, technical expertise, manufacturing capabilities, and around the clock technical support, we are totally focused on assisting our customers in every way possible," said Greg Hollows, Director of Imaging Solutions.

More than just a catalog
Drawing on over 100 years of combined experience, EO has created this easy-to-use guide for selecting imaging components. From fundamental parameters to advanced concepts, each section is designed to help you understand what is involved in building an imaging or machine vision system. You can read EO's essential 11 Best Practices for choosing components or building systems, or you can explore the Fundamental Parameters of an Imaging System to help establish a strong foundation in imaging technology. Additionally all technical content, with supporting video and product recommendations, can be found online at www.edmundoptics.com/eo-imaging.

Interested in learning more about the performance of imaging lenses and systems?
EO's Imaging Optics catalog includes more than 40 pages of technical content to help optimize your imaging system performance. Each section begins with foundational concepts before explaining the science behind correctly specifying lenses. Curves, diagrams, and images are included to help clarify each topic, and advanced topics are clearly marked for those looking for a deep dive into imaging science.

Request your catalog
To receive the Imaging Optics catalog, visit the link above and request your FREE copy today. While the Imaging Optics catalog is currently available for US distribution only, all products included in the Imaging Optics catalog can be found in the company's complete Master Source Book or online.

EO's imaging team and application engineers are always available to answer your questions to help you optimize your system performance.