New High-capacity 18-Slot PXI Express Chassis
Featuring PCIe gen2 signaling technology for flexible system configuration and deployment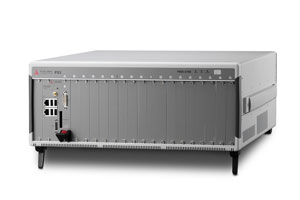 SAN JOSE, CA – ADLINK Technology, a leading global provider of trusted testing and measurement products, today announced a new PXI Express (PXIe) chassis for applications requiring enhanced bandwidth and higher density and capacity. ADLINK's PXES-2780, an 18-slot PXI Express chassis with 10 hybrid peripheral slots, provides a configurable PCI Express (PCIe) switch fabric that enables configuration with two-link x8 and four-link x4 PXI Express deployments, allowing full utilization of the PCIe gen2 bandwidth. Featuring fast data throughput, flexible configuration, innovative structure, and intelligent management functions, the PXES-2780 is ideal for a wide variety of testing and measurement applications, such as wireless and RF testing.
High Data Throughput, Flexible Configuration
The ADLINK PXES-2780 18-slot PXI Express chassis provides one system slot, one system timing slot, 10 hybrid peripheral slots, and six PXI Express peripheral slots for up to 8 GB/s system bandwidth and 4 GB/s slot bandwidth for dedicated peripheral slots. Support for 2-links x8 deployment by a configurable PCIe switch fabric eases higher bandwidth system upgrades. The 10 hybrid slots preserve backward compatibility to accept PXIe/PXI/cPCIe/cPCI modules, providing maximum flexibility in PXI and PXI Express module slot replacement and reducing the cost of system upgrades.
High Availability and Quality Design
The PXES-2780's innovative structural design delivers high availability in reliable testing systems, and built-in high quality reference instrumentation clocks for module synchronization ensure performance of modules from 3rd party vendors. Our innovative cooling system, dissipating 38.2W for each peripheral slot, and a high quality independent power module for all rails, together maximize operational reliability. For noise-sensitive environments, the PXES-2780 presents a low operating noise level of 46.3 dBA at room temperature.
Intelligent Chassis Management
The PXES-2780 offers built-in intelligent chassis management, enabling communication with embedded controllers via SMBus, or remote management from a remote system via a standard RS-232 port. With ADLINK's software-configurable PXES-2780 Intelligent Management Interface (IMI), users can easily monitor and manage test equipment, whether bench-top system or connected external test instruments, and settings for the PCIe switch fabric, fan speed, chassis status monitoring and reporting, and remote chassis power on/off. The IMI also enables notifications when user-configured limits are met.
"The ADLINK PXES-2780 PXI Express chassis' enhanced bandwidth and higher density and capacity are typically designed for multi-channel testing applications," said Catherine Wu, product director of ADLINK's Measurement and Automation Product Segment. "As an example, for customers who require a dual channel signal analyzer for RF/Microwave signals, ADLINK's 18-slot PXES-2780 chassis can accommodate large numbers of modules to test dual DUT at the same time, saving space and increasing testing system efficiency."
The PXES-2780 follows the Q1 2012 release of the ADLINK PXI/PXIe high bandwidth product family for functional test applications. For more ADLINK PXI/PXIe product information, please visit http://www.adlinktech.com/pxi.
About ADLINK Technology
ADLINK Technology provides a wide range of embedded computing products and services to the test & measurement, automation & process control, gaming, communications, medical, defense, and transportation industries. ADLINK products include PCI Express-based data acquisition and I/O; vision and motion control; and AdvancedTCA, CompactPCI, and computer-on-modules (COMs) for industrial computing. With the acquisition of Ampro Computers, Inc. and LiPPERT Embedded Computers GmbH, ADLINK also provides a wide range of rugged by design Extreme Rugged™ and Rugged product lines including single board computers, COMs and systems.
ADLINK strives to minimize the total cost of ownership (TCO) of its customers by providing customization and system integration services, maintaining low manufacturing costs, and extending the lifecycle of its products. ADLINK is a global company with headquarters and manufacturing in Taiwan; R&D and integration in Taiwan, China, the US, and Germany; and an extensive network of worldwide sales and support offices.
ADLINK is ISO-9001, ISO-14001, ISO-13485 and TL9000 certified, is an Associate Member of the Intel® Intelligent System Alliance, an Executive Member of PICMG, a Sponsor Member of the PXI Systems Alliance, an Executive Member of PC/104 Consortium, and a Strategic Member of the AXIe Consortium. ADLINK is a publicly traded company listed on the TAIEX Taiwan Stock Exchange (stock code: 6166).