New head of Siemens Motion Control Systems Business Unit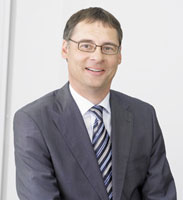 Nuremberg, 2008-Sep-12 -- Dipl.-Ing. Uwe Frank (51) will take over Siemens Motion Control Systems Business Unit in Erlangen at the 1st of October 2008. He will succeed the present head of the business unit, Dr.-Ing. Olaf Rathjen, who will, in turn, become responsible for Siemens Industry Sector business in Japan.

Uwe Frank joined Siemens AG after taking an electrical engineering degree at Erlangen University, and a master of science degree at Boulder University, Colorado, USA. He passed through a number of positions in research and development, plant engineering, marketing and business management in the Automation Systems Group, and has worked at various Siemens locations, including Nuremberg, Madrid and Atlanta (USA). He has occupied management positions for Siemens AG in Switzerland since the beginning of 2003. For the last three years, he has been the head of the HVAC Products Business Unit there, which is part of the Siemens Building Technologies Division. He will take up his new responsibilities in the Motion Control Systems Business Unit of the Siemens Drive Technologies Division on the 1st October.
The Motion Control Systems Business Unit (MC) supplies automation systems and services for machine tools and production machines in the textile, plastics, wood, glass, ceramic, packaging and printing industries, and for sheet-metal forming. MC also automates crane facilities. Some 6,000 employees develop, produce and sell a range of controls with integrated Motion Control, logic and technology functions, as well as converters, and servo and linear motors. Services, such as Mechatronic Support, enable a complete machine to be simulated. Online services, such as "ePS Network", form the basis for web-based fault management and preventive machine maintenance.
The Siemens Industry Sector (Erlangen, Germany) is the worldwide leading supplier of production, transportation and building technologies. With integrated hardware and software technologies as well as comprehensive industry-specific solutions, Siemens increases the productivity and efficiency of its customers in the fields of industry and infrastructure. The Sector consists of six divisions: Building Technologies, Industry Automation, Industry Solutions, Mobility, Drive Technologies and Osram. With around 209,000 employees worldwide Siemens Industry achieved in fiscal 2007 total sales of approximately EUR 40 billion (pro forma, unconsolidated). www.siemens.com/industry
The Siemens Drive Technologies Division (Nuremberg, Germany) is the world's leading supplier of products and services for production machinery and machine tools. Drive Technologies offers integrated technologies that cover the entire drive train with electrical and mechanical components. This includes standard products but also encompasses industry-specific control and drive solutions for metal forming, printing and electronic manufacturing as well as solutions for glass, wood, plastic, ceramic, textile and packaging equipment and crane systems. The services provided by the Division include mechatronics support in addition to online services for web-based fault management and preventive maintenance.