New Harmonic Drive FHA-C Mini 24V Servo Actuator with Dual Absolute Encoder and Panel Mount connectors!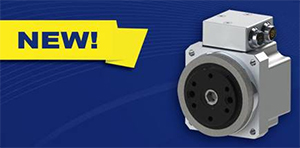 Introducing Dual Absolute encoder versions of the FHA-C mini actuator. Featuring BiSS-C bi-directional communication for both encoders. The dual encoders are incorporated in essentially the same package size as the long-standing FHA-C mini single incremental encoder version. Without increasing the size, the dual absolute encoder offers single turn absolute position at the output, without the need for battery back-up. Panel mount connectors come standard, and customers can choose between 4 exit options.
The FHA-C mini Series is a family of extremely compact actuators that deliver high torque with exceptional accuracy and repeatability. The actuator combines a high precision Harmonic Drive® gear component with a pancake brushless servo motor. A single turn 14 bit (16384 cpr) gear output encoder has been integrated along with a single turn 14 bit (16384 cpr) motor input encoder providing a true absolute encoder that does not require a battery within 360° of rotation of the output. Typical multi-turn encoders monitoring the motor input shaft require a battery to store the current position when power is lost to the system; however, the dual absolute encoder overcomes this need. In other words, No Battery Required. When power is restored the actuator knows its position.
Features include:
Zero backlash
Incremental, Absolute or Dual Absolute Encoder
24VDC winding
High-torque/weight and torque/volume ratio
Optional flex-rated cables with sealed connectors
Information on the FHA-C mini actuator from Harmonic Drive can be viewed at:
https://www.electromate.com/assets/catalog-library/pdfs/harmonic-drive/harmonic-drive-fha-mini-24vdc-specsheet.pdf