New Hardware Integration Platform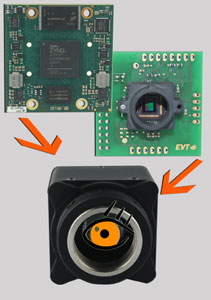 Well-priced and powerful
EVT presents with the combination of the hardware construction kit called "Raze" and the various camera modules a powerful integration platform for machine vision solutions.
The series of Raze1 and Raze2 are ZYNQ boards, which can be used with a multiplicity of line- and matrix-sensors.
Raze1-15 and Raze1-30 system-on-chip (SoC) module combines Xilinx's Zynq-7000-series All Programmable SoC device with fast DDR3 SDRAM, NAND flash, quad SPI flash, a Gigabit Ethernet PHY and an RTC and thus forms a complete and powerful embedded processing system. Additionally Raze1 combines the flexibility of a CPU system with the parallel processing power and real-time capabilities of an FPGA system.
The same characteristics are true for Raze2 with the only difference, that it has a ZYNQ-7020.
Of course every "Raze & sensor" combination supports the EyeVision machine vision software. Therefore it offers a ready-to-use machine vision solution. No matter if GigE, USB, Bluetooth, etc. the software supports every platform. And the graphical user interface (GUI) stayes the same on every platform, consisting of 3 main parts. For one, the Toolbox with the image processing commands, which are displayed as icons. Those icons can be dragged into the Program Editor, where the commands are carried out by the software from top to bottom. The live image and the overlay can be seen in the Camera Viewer. The user can also create custom process displays.
Company Contact
Klara Steinschneider
Tel: +49721 668 004 23(0)
Embedded Vision
This content is part of the Embedded Vision curated collection. To learn more about Embedded Vision,
click here
.