New Gocator Displacement Sensors Line
>
Gocator Displacement Sensors performs high speed dimensional measurementsts at scan rates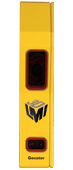 up to 32 kHz

New Gocator line builds on LMI's successful Selcom sensor history

Gocator Displacement Sensors debut at Vision China
VANCOUVER, CANADA - LMI Technologies, a global leader in 3D sensor measurement technology for industrial measurement and control applications, launched today a new Gocator Displacement Sensor product line. The Gocator 1100 series and Gocator 1300 series are the first offerings from this new line of all-in-one 3D smart displacement sensors. To mark the launch, both series of displacement sensors are being demonstrated at Vision China in Beijing, October 16 - 18, 2012.

"LMI has developed an exciting new line of single point sensors for use in high speed inspection, based on over 30 years of Selcom laser sensor knowledge. These sensors leverage the success of Gocator's ground breaking user interface to deliver an exceptionally easy measurement device to operate," comments Terry Arden, CEO.

For two years, Gocator sensors have been setting a new standard for optimization and control in today's production facilities. Gocator Displacement Sensors enable users of all levels of expertise to perform high-speed dimensional measurements such as height and thickness, or surface roughness. With scan rates up to 32 kHz, all-in-one Gocator Displacement Sensors are ideal for real-time closed loop control and automating non-contact distance measurement processes. Users easily set up, measure, and control with the same multi-language web based interface found in all Gocators. Gocator Displacement Sensors are scalable, come with an open source SDK, and can "plug" into PLCs using industry standard protocols.

Highlight features of Gocator all-in-one 3D smart displacement sensors include:


Scan rates up to 32 kHz.
High-resolution measurement over various ranges, up to 2m.
A built-in web browser based multi-language interface that does not require coding or specialized training.
EtherNet/IP™ certified for "plugging" into PLCs.
Pre-calibrated, integrated laser and optics that deliver real world measurement out of the box.
Laser measurement and data processing done in the sensor.
Rugged IP67 housings for industrial environments.
2m, 3R, 3B laser class options optimized for different types of applications.
Manufacturers looking for further information about Gocator Displacement and Profile sensor solutions are encouraged to contact LMI Technologies. Data sheets and a product line brochure Gocator are available for download from the Gocator product page - www.lmi3D.com/Gocator. All other inquires, including pricing and how to buy, can be made through the contact us page on LMI's website.

About LMI Technologies, Inc.
LMI Technologies Inc. (LMI) is a global leader in 3D sensor measurement technology for industrial measurement and control applications. LMI focuses on constantly evolving the user experience to deliver 3D solutions, which enable end users to leverage the benefits of 3D technology for quality control, optimization, and automation in today's factories. LMI's solutions support the 3D measurement needs of many of the world's largest companies supplying equipment into industries such as aluminum casting, rubber and tire manufacturing, wood processing, automotive assembly, and roadway inspection.